Dry-run for limited face to face classes
As Pandemic came 2 years ago, our children did not allow to go to their respective schools, as Department of Education alternatively does the modular modality of learning, in which the children are still able to study without going to school but in their homes only through modules, but we know that maybe not all but some children/students didn't know their lessons well because they are not the one answering their modules yet the parents, still we cannot blame the parents because as their reasons, they are only helping their child because the child tired to answer it.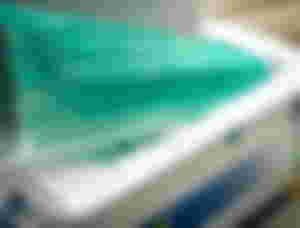 Our simulation activity was successful, we have a process to follow to maintain the health standard protocol,
upon arrival at the gate of the school, they should put their facemask to the trashbin and replace another facemask that intended for them

After entering the gate, they should wash their hands with liquid hand soap and do the temperature check.

Next at the triage, they need to write the form with their names and so with the body temperature they have.
After everything, they are allowed to proceed to the receiving area that is intended for them, to monitor whether they only delay their cough or sneeze at the triage.
Later, after 5 minutes, if the teacher is sure that they don't have any symptoms of cough and sneezing, they are allowed to enter their respective classroom.
The classroom should have 2 doors that openly swing because if it's not, the school premises shouldn't be allowed to perform a face-to-face class.
Inside the classroom, they are not allowed to make hugs and do handshakes with their peers or classmates, in their chair, they already have their basket, inside the baskets are face masks and alcohol. They also have their snacks with them because they are not allowed to take their snacks outside the classroom.
The duration time of their classes is only 4 hours and only the four major subjects can be taught.
Our simulation activity did satisfactorily.
Tomorrow, we have our validation to survey whether we are ready for the said limited face-to-face classes.
After tomorrow which is Friday, we are also attending a seminar for research.
Our weeks are loaded, and here I am landing at bed 🛌 I'm too sleepy for a lot of energy I lost a while ago.
Before I end this, let me say hi to all of you my dear sponsors, readers, commenters, and friends.
Thank you for being with me along the way, I am not inspired to do an article if you are not around.
Thank you.
Before this day end, I would like to say thank you for the gift of life that God has given us, for protecting us from evil doings, and for guiding us always.
We ask for your forgiveness and spare us from bad influence.
Let me end it here, thank you once again, I'm so sleepy 💤 😴