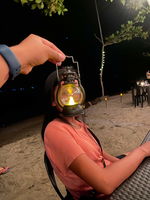 You can go around in search for love and fail because you never found it. You can also run away from love. You can just sit, do your thing and Tada!!! Love found you. Love caught you- off guard.
Love is such a beautiful thing. To be loved is a pleasure. It is happiness and gratitude at the same time. But, to be in love is adventure, chaos and danger combined.
I just subscribe to the raffle promo. Lol. I got my boyfriend from a friend. Shall I mention her name? Haha. He was my friend's ex. Yes, weird right? I don't know why I agreed to the idea of him and me when I knew he was my friend's ex? Of course, I had second thoughts and what if's but still I didn't guarded my heart that much. He was my friend's ex and he was trying to save their relationship but he failed. My friend got tired of him being adamant about them being together again. So, my friend gave my phone number and might have said, "take her instead". Hahaha. My friend informed me of course of this and that. And I was like oh great, might give it a try. My main purpose was just to try and have fun. I never knew he was up to something serious. My agenda was to have someone to talk to when two of my friends are busy talking with their boyfriends. Someone to fill in the gaps of my not- so- busy days back then and at least bring something new to my lazy and monotonous days. But the friendship we had grow into something romantic. Ehhh.
Days won't pass that we won't communicate. Every night after shift, we would go about our day and talk about random things until dawn. Oh, I never knew back then that the spot I used to sit and stay while I talk over the phone with him was the same spot where a student commit suicide years ago. Well, I am not the type of person that is always hunted by ghosts. Or maybe there is something weird that time but I failed to notice because I was preoccupied.
I used to ask my friend how they seem to not run out of topic when she is always talking with her boyfriend everyday, all day. She just smiled at me and laughed. I got no particular and clear answer. But I have learned the psychology behind that the moment I started to talk with that random guy.
Our conversation went on for days then months. We would take turns in calling each other and we would tell each other about our whereabouts. This random guy made an effort of walking to a certain spot where his phone can have a mobile signal because most of the areas on where he live is a deadspot. Our bond was made strong because of our constant communication and our expectation and excitement for each other.
Yeah, you got it right. We have never seen each other before. Time passed by, and he finally confess his love for me. I was like, oh really? That early? I have taught him how humans should not rush into love and even asked him why was he in love with me when in fact we never saw each other personally before. Again, I got no clear answer. Only a "you couldn't explain love" answer. Oh well, that was a lame answer and I didn't accepted it eventhough I feel the same way for him too. Unconciously, I have let myself fall into the trap but I never told him that instant.
I made him wait just like how my bestfriend made her boyfriend wait. The goal was five years of waiting but it was a failure.
One night, he had a drinking session with his friends and his older brother. We are just having another late night talks because he is still sober. But his brother is not. He talked to me and asked me about my intentions about his younger brother. Oh wow! He even accused me that I might hurt his brother in the near future. Oh oh again. That was a double kill. As far as I'm concerned, I shouldn't be in that hot seat unless I courted his brother. I feel like I am the guy who is being scrutinized by a brother of my lover. That couldn't be. I am a woman and so I explained myself but my explanations didn't matter to his drunk brother. Not until I told him that I and his brother are just friends.
That is when his brother was enlighted by the whole situation. Maybe he was pressured by his older brother that he really convinced me to say yes that time. It was already 1 am and he wouldn't stop calling me if I wouldn't say yes to him so I gave in and said yes so I can finally go to sleep.
The next morning, I could feel his grin over the phone. He is now sober and I cannot take back what I told him the night before.
The rest is history.
Until then!
*Lead Image is from Unsplash.com