Gallery Raid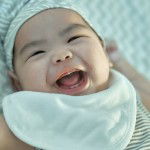 A new prompt has been getting a lot of participation lately, I can't let it go pass without joining but due to many things going on lately, I have not found a time to really sit down and check on my phone for the required photos. Obviously, it needs images to be able to join and although I use my phone everyday, every hour, I have quite a long way to go check out these that are on the list and that's just so hard with a toddler. You know when I sit down and start browsing on my phone, he would ask me to carry him and all sorts of alibis just so I can't use my phone.
So as soon as Matti, my 18 months old baby boy is already asleep tonight, I took this opportunity to draft my entry. But mind you, I had tried multiple times to keep him sleeping, most of the time, I end up sleeping first. Teehee!
Again, this is just a draft and I can't promise that I will be able to finish this tonight but I will try my very best!
About the prompt, it was initiated by @meitanteikudo of whom I have not subscribed yet but I did before I publish my entry to his prompt. To join the said prompt, here's the details:
But before I start, let me share with you some information about my mobile phone. This is a Realme GT which I bought in Ayala Center Cebu last November, it's still a pretty new phone and I am loving it because it is way faster than my previous phone which was a Samsung A51, I sold that to a friend at Php 8,000. So, I actually had no plans in buying a new phone but when my sister in-law asked my husband to buy her partner a new one, I was sold by what the guy was promoting to me plus I saw it was marketed by Alodia Gosiengfiao, I gave in. It's not that expensive though and the camera is not the best but its performance is just amazing, it is made for mobile gamers.
Now without further ado, let's get the gallery raid rolling...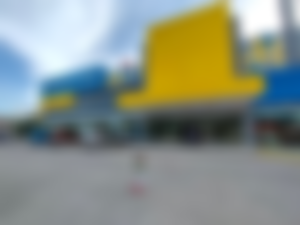 The image was taken on November 14, 2021 and it was taken in Oslob, Cebu. When we bought the new phone, we went to Oslob that same day so we were only able to unbox the device the next day. On that day, we also visited Gaisano Grand in the said town to buy some necessities. However, Matti was not allowed to go inside because he can't wear a face mask yet so we were just outside of the mall waiting for my husband.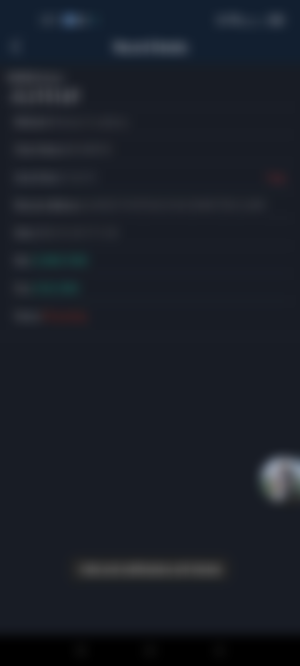 Will a screenshot be valid for this? Because this is the latest one as of the moment. This was a withdrawal transaction record detail page in my Gate.io account. My husband wants some BNB because he is breeding another set of MyDefiPets. He is aiming to get an ultimate pet which has been very tricky. He is already becoming impatient with all the breeding process that he had done so far so he decided to just buy a pair in the marketplace.
This amount of BNB was from my recent gain of Babydoge trade and my original plan was to purchase another set of sh*t tokens, I ended up buying BNB instead and send it to his wallet.
He had to wait for a day before I could send this to him because I had to enable some Google and mobile Authenticators first which will block any transaction on my account until the next day. So, he has a good amount of waiting though.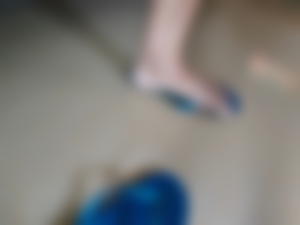 I was laughing as I was trying to think why do I have a photo of my husband's foot in my gallery? I kept on wondering and then, I realized, it was my baby boy Matti who took this photo!
I recall that one afternoon he was holding my phone and was able to open the camera application. I remember he was even telling me picture picture and was pointing the phone to random spots. I guess he was able to really tap the shutter button and accidentally taken a photo of my husband's foot.
That is just hilarious!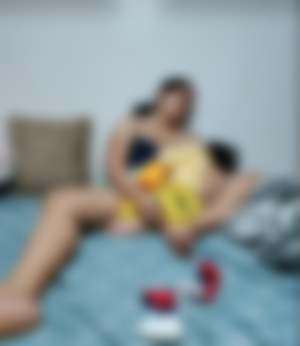 Oh no! I had doubts posting this image but then I have to be honest with this article and just put in here this embarrassing moment. I had no idea my husband took this photo, I don't usually delete pictures on my gallery unless it is really garbage so when I scrolled and browsed for an embarrassing photo, I decided to use this instead because why not? It's just embarrassing, look at that padede mama sleeping while the baby is at her breast?
Well, this happens almost every single day! Most of the time, I end up sleeping first before my baby does and there's actually a scientific explanation to that. As the baby latches, there's a comforting feeling of nursing the baby, breastfeeding also releases Oxytocin in your brain. The release of oxytocin can cause a relaxed and sleepy feeling.
There you go! So, padede moms, don't feel guilty about sleeping while the baby's at the breast, it is normal and very natural!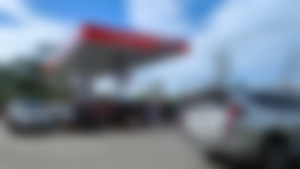 So you might wonder, what's the reason why this was picked as the worst photo? Well, it may not look like it is bad but the story behind this is that when the typhoon Odette hit the province in Bohol, a few days after that, there was a problem with the gasoline supply and all the other necessities in the province, water, food supplies, all because there was no electricity, in fact, it is not yet completely back, there are still many parts of the island which has no power including our town.
This image above was taken when we were on the line for gasoline. It took 5 hours for us to get a few liters of gasoline, not even full tank!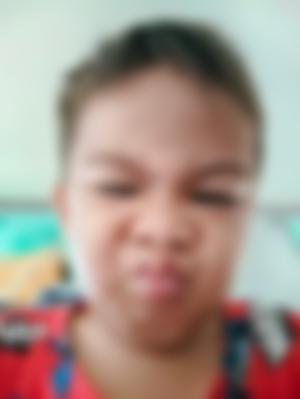 This has me laughing. My nephew got a hand of my phone and since the camera can be accessed without unlocking the phone, he was able to take selfies of himself and even took photos of the people around him at that time.
My brother, his step-dad caught him and scolded him for using my phone, he was only allowed to use his mommy's phone but he has a tendency of using other devices, good thing mine was locked but the camera was not spared and so this selfie with pouty lips, I was laughing when we checked the gallery. I didn't delete the photos though because I believe this is just hilarious and worth saving.
I will surely show this image to Kuya ZM once he is bigger.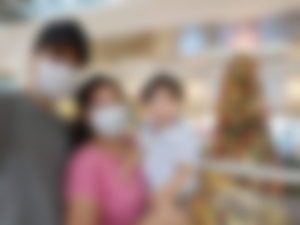 I have a lot of best photo on my gallery but I picked this one because it was during that time when life in Cebu was somewhat normal, kids were allowed to go inside the mall, we were able to see huge Christmas trees while mall hopping, this one was at SM City Cebu.
We don't get to take a family selfie all the time but this one deserves one as we admire that big Christmas tree. Matti was also giving his smile at that time and although ours are not visible due to the mask, I treasure this as the best photo so far in my current gallery. It gives me a lot of things to look back.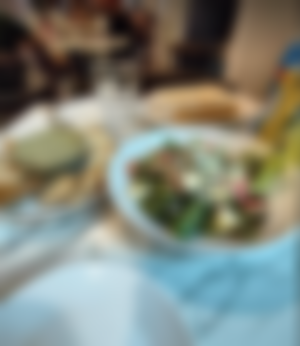 Spinach Cheese dip with garlic bread, Apple and Candied Walnut salad, Lasagna, these are just some of the food we used to eat at Oh Georg! in Cebu City. Living in Bohol, it is given that we don't have direct access to such types of food and even the ingredients of making a salad is challenging here in the province.
Even a simple lettuce is very hard to find, we have to travel to the next town or to the city just to get some packs of Romaine lettuce. So, looking at this image makes me want to fly to Cebu and buy them.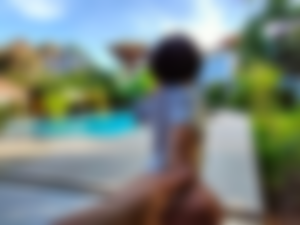 The photo above was taken at Bird of Paradise in Tawala, Panglao, Bohol. We visited this right after we traveled to Cebu last November. Before we went home, we passed by Panglao and stayed here for one night.
I booked our room online and it was worth it. From the spacious room to the service, I believe that what we paid was not enough compared to how nice this resort was. I had a great time while we were staying there, the staff were all friendly and very accommodating and we had nothing but appreciation to their service.
I won't mind it if we would go visit the resort again.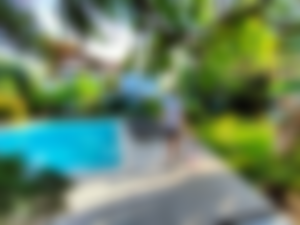 Here's a photo of my husband holding our baby boy. I picked this one because it shows how my husband had been a loving father to our child. He has been there with me from the start. He was there on the first nights when Matti was still a new born, he stay up just so he could let me sleep while he carry Matti in his arms.
He was there every single morning for Matti's sun bath. He was with us in every doctor's visit, he was there when Matti had his vaccination at the local center. He had sleepless nights, he would work and watch over Matti and me.
In fact, when typhoon Odette caused huge damage leaving us without electricity, he had to go to the city to find co-working spaces, he didn't go there by himself, he had to bring us along because his reasons, he will miss Matti.
He never complained about taking care of his son and he is just so thoughtful of my sanity too that he would allow me to rest, take some sleep while he takes care of the baby.
I greatly appreciate and admire this man!
---
---
xoxo,
momentswithmatti Mother | Boholana | Cebu | Philippines | Travel | Photography Enthusiast | Calligraphy | Art | Crypto Noob
Sponsors of Momentswithmatti