Teaching kids to do house chores
I always believe that kids will learn through experience and training them while they are young.
It's been 5 months that we don't have a house help. Since Chelle went home and there was supposedly a replacement but after a month also went home, we decided not to look for another house help anymore. For me it is hassle to train and then they will just go. Besides, the kids have face to face classes already, my mother-in-law who is looking after them at home while we work will now only look after Eila, my youngest child.
We decided to have a teamwork at home to make things done on our own. Every morning I will wash the clothes and my hubby will cook for breakfast. Lianne and Eilan are assigned on fixing toys, washing the dishes, cleaning up the floor.
Whenever there are no classes, Eilan will be one to cook rice using a rice cooker and Lianne will fold the dry clothes. We teach them the step by step process. The output of the kids are not perfect but we really appreciate that they have the heart to help in the tasks at home. This way, they will learn and will grow not depending on others to do all the jobs at home. Whenever they will volunteer for a task, I will not stop them from doing it, instead I will teach them except for those tasks that would be very heavy for child to handle.
I can also remember the time that my mother taught me house chores when I was young. She taught me how to wash dishes and clothes, get and cut firewood, grate coconut, cook simple recipes and a lot more. All the house chores I am doing now were mostly taught by my parents. I can really say that training kids to do house chores while they are young is very important. Thus, I am doing the same to our children.
Before I end up, let me share to you a photo collage of my kids doing the house chores.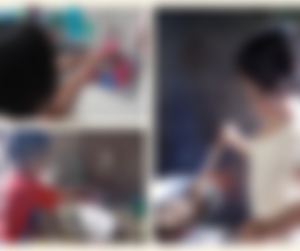 I would love also to read you experiences and opinions regarding this topic in the comment section. Thank you.
MizLhaine
12.1.2022