Kid's Art: Nature Printing
Do you know nature printing? Have you tried creating one?

Based on the definition, nature printing uses different objects which can be seen in nature to make designs and artworks. It can be a leaf, flower, stone, shells, twigs and any other things that is in nature.
I have not tried doing this kind of art before but I am a fan of flower and leaf pressing through books and then put them on cards or journals. I also love to dry flowers. I like to look on them even if their color becomes brown. Here's an example.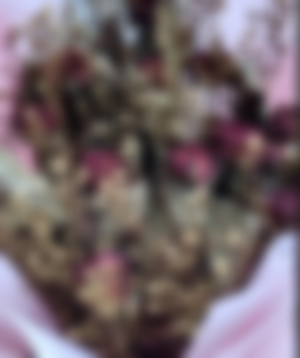 Going back to nature printing, lately, I am just delighted that one of the projects of my son Eilan was Nature Printing and he was very eager to make his own designs. Their teacher sent them videos on how to do it.
Here are the steps he did for the project:
Prepare the materials like poster paint, paint brushes, leaf and bond paper. I think any kind of paint can be used, even the water color.

Start putting poster paints in the leaf using the desired color and pressed it on paper. In this project he used gumamela leaves.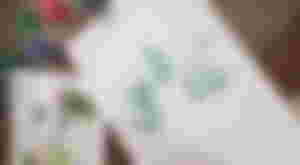 Do the second step repeatedly until the desired object to be created is formed.

Finish the desired objects with touch of paint brushes or color pens. Here are the outputs of Eilan. He loves green so much that even flowers became green.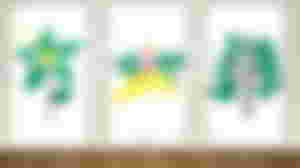 Simple as that and I see cute art works. I really love kid's art works. It awakens the childhood part of me. I love to see them happily making their work without thinking of competition but putting into work what's on their mind.
For me, this kind of art work is not only for kids but also for adults. It can be a way of relaxing one's self. It can awaken one's creativity. The art works can be put into frame, put to journals, cards and letters. And this is not expensive, you just need the things around and you can create a new output.
If you are to make a nature print, what object would you like to create?

Before I end this article, allow me to thank my co-authors here for making my one year journey in read more meaningful . Time flies fast and was able to reach a year in this platform. I learned a lot of things and I am beyond grateful for the the earning and learning opportunities. As I continue my journey on, I am looking forward for another fruitful year and that more people will be inspired to write whatever under the sun. I will continue to write about my momhood journey, my work and maybe crypto related. Thanks to the Lord for this BCH and read community!
~MizLhaine
4.13.2022