Luka and something else.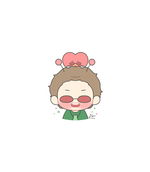 Hello beautiful people!
I hope you all are doing fine amidst of the shortcomings and uncertainties we may feel day by day. Always remember that a positive life is a happy life. ✨
---
Argh! Was away again for more than a week now. I actually regretted it as checking back how my articles went by from the start of October, I can say it is doing good and Rusty has been generous to me. Only if I didn't stop for a week, maybe I already gain more than what I have now.
Anyway, the damage has been done. Let be what it is.
But what really causes me to be inactive again for more than a week?
It is because my sister and her little family is here at my place now.
But before that, let me share to you one of the highlight of my week being inactive here.
Luka's Dedication.
MakMak, one of my close friend at work invited us to attend his son dedication. I jokingly said at my other's friend that I wasn't invited by MakMak personally so I will not be attending. Again, it was just joke. Then unknowingly, they told MakMak about that last October 15, he sent me a message.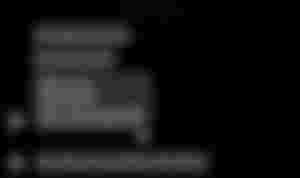 I laughed out loud upon receiving his message because my other friends really told him about my joke. They're really fun to be with.
Then October 23, Luka's dedication happened. We went there around 12:00 PM. It was my first time seeing Luka in person. He is so cute. I was just so afraid to carry him because he's too small, but still I did carry him for a picture.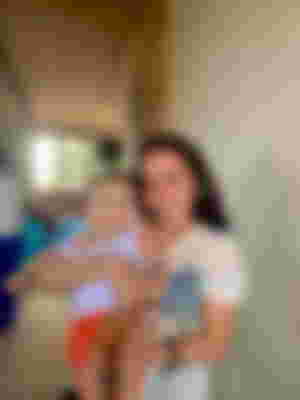 Look at that round eyes! So pretty. Luka is 5 months now. Just how fast time flies for real. We never know, he'll be one already.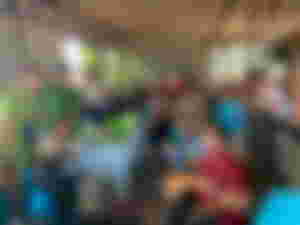 And that's my circle. We have a little videoke after our lunch. Guess who's the best singer among us? Lol!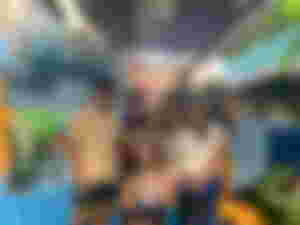 And that's us with MakMak (the one wearing brown polo shirt) and Katty, Luka's mom. I don't know what Luka is looking at.
Then we went home after. It was such an amazing day being invited for a child's dedication. We just gave our gift before the lunch started. We made sure that the gift is useful for Luka.
---
That's all for today beautiful people. If you have any thoughts about this, feel free to leave it in the comment section below. Let's interact. Stay safe always! Xoxo ✨☺️
- MissJo 💜