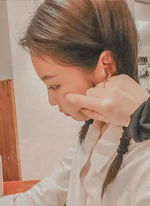 Weekends are supposed to be my relaxing day, but for this week, it's very tiring, but it's worth it.
Seeing your loved ones smiles through happiness is the most precious thing that I would trade for thousands of relaxing weekends.
So this weekend I suppose to relax after a long tiring week, but my cousin has her surprise visit to our home, so I have no choice but to spend time with her, and actually, it's worth it. I miss bonding with my cousin.
I'm exhausted that I can't even start a conversation every weekend; I suppose to sleep after I do all my school works and after doing my assigned home chores too. That's my lazy self, I thought. Doing stuff at weekends is not my thing. I want to lay on my bed all day even I already know that it's not productive, but what should I do? I have no energy to do things.
But when my cousin visited me, she was so hyper and convinced me to spend her weekend with her, so I had no choice but to agree with her.
It's very early in the morning, she just jumped on my bed, and I'm still half asleep when she just tickled me so that I will be fully awake.
We have our morning walk, and we go to the fast-food store to have our breakfast there; I'm still sleepy to have a morning jog, but she's so playful that she even insisted a bet to have a marathon race with her that whoever got first in the fast-food store will be the winner and the loser will pay for the food. It's unfair for me, I don't even have the chance to say no, but she already counts and runs as soon as she finishes depending on 1, 2, 3...
So yeah, I paid for our meals; even I'm a loser, she still teases me that I'm aging because of my slow performance on running; gosh, this girl, if she's not a few years older than me, I would beat her ass off. So again don misunderstands me. That's the way we bond since we're both a child.
We go to the grocery to buy some stuff to eat it too later in the midnight because she plans to have a Netflix and chill whatever she says, hahaha. Still, I agree with her because that's my favorite thing just to lay down and watch movies or series until I pass off.
So later that night, she prepared all the stuff, the food; I don't know if we will finish all of the food she brought; just a pizza is okay with me, but she even bought a lot.
So we're ready to watch. I'm on my bed, and she's still busy preparing the food; I got so bored, so I threw a pillow at her because I was facing her back, and after the pad landed on her head, I regretted it as fast. She pushed me out of my bed, and I fell to the floor.
Again we settled ourselves and watched random movies, but she refused to pick one, so I chose the originals. Haha, that's one of my favorite series; after I even played the next episode, I was going to ask her if she was bored or if she wanted to change the movie, I just see her holding a slice of pizza and snoring, that's when I stop watching and turn off the television, she's already asleep, ha! She says that I'm aging, but she's the one who sleeps early like a grandma haha; ha; I cleaned the place and helped her to lay down in my bed.
That's a worth weekend for me, hahaha she already left a few moments ago, before I wrote this, I will surely add this in my diary hahaha.
That's it for now, guys; I have to rest to have energy for another week that's coming tomorrow, hahaha.
I hope you have a great weekend.