The Enchanting Steampunk-Style Machine in a Gothic World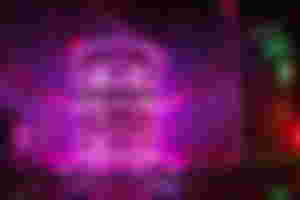 Once upon a time, in a realm full of gothic darkness, there existed a mysterious relic, an ancient steampunk-style machine. It was an eerie, mechanical contraption that had been left behind for many years, immobile and forgotten about.
The machine had long been a part of the landscape, its gears and cogs rusting away slowly over time in the darkness. But one day, something changed. A strange glowing neon light began to emanate from the machine, creating a luminescent aura that filled the entire area.
The townsfolk were baffled by this new phenomenon and could only speculate on what it could mean. They had heard rumors of a magical power coming from the relic, but none knew for sure if it was true. Nevertheless, they were determined to find out.
Using their courage and determination, the brave residents banded together to find out the truth. After finding a way to access the machine, they discovered a source of powerful energy. It was a source of energy that could be used to power various contraptions, and the townsfolk quickly decided to use it to help further their cause.
Citizens soon realized that the machine was a chronic artifact of a steampunk-style machine in a gothic environment illuminated by neon lights. With its newfound power, the locals used it to bring light and hope to their dark world.
The people had used the mysterious relic to bring light and hope to their dark world, and it was a reminder of the power of courage, determination, and resilience. Ever since that day, the relic has been a reminder of the courage and strength of the townsfolk, and a symbol of hope for us all.
This was their moral to all of humanity—that no matter how difficult a situation may seem, if we have the courage and determination to keep striving, we will eventually succeed. This story serves as a reminder of the importance of never giving up, no matter what life throws our way.



Sponsors of MicroReylatos