One day left🤗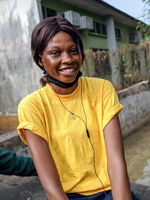 Happy last Sunday of the month guys!!! I'm super duper excited. It feels to good to be close to the end of the year, Christmas especially is one of the things I can't wait.
How'd your day go? Mine was splendid and filled with Thanksgiving and dancing, alot of dancing. It's worth it to be happy cos many are dead, sick or close to a bad situation but me and mine are good and in the hands of God.
Whilst I'm in the celebratory mood, I really want to talk about something that I encountered in church today so we can all learn a lesson from it.
Most people have no issues spending $20 on a piece of clothing or on an outing, to see the movies and more. It is termed giving one's self a treat when they do it. Others call it flexing, something that every human must do every once in awhile.
So whether they are spending an outrageous sum for these activities which really are just for fun, it dosen't matter to them nor make them feel like they are spending alot cos they are spending it for themselves and their loved one.
When church gets involved, then all hell breaks loose. Any pastor who preaches that his congregation should give more is branded a thief who should go and work and not extort money from others.
We needed money for somethings in church today and my pastor tried to raise funds. Where I was seated, I began to hear all sorts of ill comments from some members of the congregation who were close to me. It's one thing not to give and this i understand cos you might not have or you might also have but don't want to give. That's okay! What isn't right is saying that people are being extorted and all other stuffs, thereby making your neighbor also feel uninterested all cos you think it's extortion.
No body ever says that the tickets sold for outrageous prices is extortion, instead we throw our money to buy it under the guise of it's needed or it's enjoyment. I know there are pastors who over do, but should all pastors be grouped under this umbrella? Definitely not!
We should learn to give to God when we feel like, from the depth of our hearts and when we don't want to give, we should keep quiet about it.
Someone once said to me that the yams and foodstuffs that we take to church are not for God but for the pastor so he should stop saying it's for God and we should stop buying it. I answered him and said even if it's for my pastor, is it too much for me to give him yam and foodstuffs once in a year?
We over think these things sometimes and I feel like they are unnecessary. Giving in the church is a good use if one's money as far as I'm concerned and should be engaged in by all.
I had a good day today but didn't get back to school till late evening cos I had to wait for my mom. Yes, I went home to have a taste of home food once more and it was worth it. I'm considering doing it every weekend.
Thanks for reading
Mhizutty the voice of truth 🎵🎶🎵