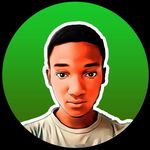 I have been home for two weeks now. And it's almost over as I already began to prepare my luggage back to my place of primary assignment. While packing my clothes and all other things together my little sister (last born of the house) was there with me. She started pleading for me not to return back and not to back my loads 😂.
She would always love to do two things at home. Eat and cry. I do hear that the last born is most times spoiled, especially before they become adults. She was called dad's daughter and she got used to the act of reporting everything that was done to her by her elder siblings to him upon his arrival then she gets a pat on the back and at times we get scolded for her.
She already turned this into a habit and got used to it without knowing it was something bad. She hardly washes the dishes or even do any house chores. Her older brothers would have done everything for her. All she does is to eat when food is done and make that lazy look on her face when it comes to working.
Just two weeks with her again after a long time she had not changed a bit. She is still that stubborn girl I used to know. 😂 but when she talks on the phone she would tell me she is now a changed girl and she does all she is told to do.
She had been like the queen in her kingdom for days. She would always trigger offensive acts and run over to dad so he can plead on her behalf. But every day for the thief, one day for the owner. She tried something silly today and there was no one to come to her aid. She is always on mum's watchlist and she has been taking some warnings from her for a while now but is always not ready to heed to them.
Dad was not at home today, everyone was present at home since today is Sunday and no workplace or school. Then after breakfast 🥞 she was told to wash the dishes in the kitchen. Just as simple as that, the dishes aren't much at all. But the stubbornness in her won't make her rest.
She was forced to wash them then she did so while she was crying. After washing them instead of rinsing those plates in a bowl of water, she decided to throw them in a big drum of water in the kitchen used for cooking. She almost washed everything but Mum couldn't notice her at first then she realized she had already turned the water in the drum to a pool of plates and soapy water. 😂
Mum was frustrated by her act of stubbornness and told her to pick out all the plates in the drum of water and pour the water away then start fetching another water in it.
Everyone had sympathy for her and how she looked while fetching the water, then we assisted her.
I don't know why the last born is always that way. Maybe because they get pampered too much or they just felt like they should be that way. Right now as I write this she is receiving another punishment again for her stubbornness but dad is there to plead on her behalf again. 😂