Sunday with embarrassment and mistakenly Stalker
Good evening dreamers!! Today is Sunday so I assume that you able to get some rest and have some bond to your family. Job well done because you've overcome the past week and I believe that you can also to that in the coming weeks. As for me, I had some embarrassing moment and did some things in order to make my day productive somehow.
---
Early in the morning, I decided to walk on our small farm to get some fresh air. Actually I really love the weather here, not so hot and not so cold either. It's perfect to take a walk and to the farmers who plant some vegetables there. My two brothers also did some harvesting of chili and Patola. Without hesitation I joined them because I'm bored inside our house and I don't have someone to talked because all of them are busy in the farm. We don't have a neighbors either, our nearest neighbor is kilometers away from our house. Honestly, it is one of the reason why I like to live here in the province because there's no Marites here haha. I can freely do what I want without being worried on others judgement. Aside from that, food is not a problem here because there's a lot of vegetables and we also have rice field. Most importantly is the food is fresh and you are the one who will pick it up. So go back, I also saw some ampalaya and I guess it is also ready to harvest. I get some for our afternoon's viand.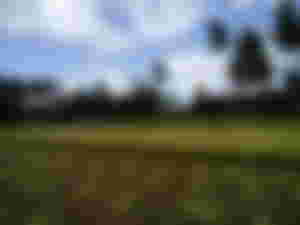 But as I walking and helping them, I noticed something or should I say someone is watching me. I saw a man who is following me since I left home. At first, I only ignore him because I thought that he is a worker but he keeps following me. I looked at him and I got nervous because he keeps following me until that time. I even asked my brothers who is that guy but they also don't know who's that man. They jokingly said to me " Maybe, you bring a man from Manila and you hide him somewhere and now he wants to be with you haha". It's not funny actually because I'm getting nervous. But I laughed at myself because instead of asking the man, I intended to hide on the tree. I literally climb on the tree and look if he is looking for me and there he is, searching for me. I almost fell down on the tree because my phone suddenly rang so he caught me. So I immediately go down to the tree and get my phone and immediately run to asked for some help. I even shouted " Kuya help!" Then the man grabbed my hands while saying " Miss, don't shout! I only asked some favor on you".
"I'm not here to grant your favor." Am I look like a genie to him? Lol Then I walked so fast. I know that I am a little bit bad on this scene but I just get nervous on him. But he said " Miss, I'm just here to asked if I can have some vegetables hehe,my grandma ordered me to asked some here. So can I?"
" Why you only said it now? You know why so nervous because you are following me and watched me since earlier. And you should asked that on my brothers not me. But yeah, I think you can get some. So get some from there.
" Hehe, I'm sorry I just thought that you are the land owner because of your outfit. It's not in my intention to scared you".
I just realized that my outfit is not really appropriate here. I wore a yellow dress. Maybe that's why haha. It is so embarrassing moment. Who the hell will climb on the tree wearing that kind of clothes? Maybe I am the only crazy who would do that. Then I went home, I saw my Mom talking to someone and then I heard that the man is her grandson and he just have vacation here. It's his first time to visit here again after 10 years. And you know what I discovered? According to her grandma, he also attended college in the University where I studied now. It is really a coincidence but mostly, an embarrassing moment. I hope that I will not see him again so I will not remember this day. I didn't say to my Mom and to my brothers what happened earlier because she might teased me and laughed so hard. I just leave it here and there ahaha. I just mistakenly thought that he is a stalker haha.
---
Thank you dreamers for keep supporting my journey here. Thank you to my awesome sponsors, readers and to those who always leave a comment to my articles. Thank you so much and enjoy the rest of your Sunday 😊❤️