A Day With my Future Professionals.
It feels new to be in this after a few fights I have been battled to. I can't remember when was the last time I went outside with my friends because of the activities I was stressed with my academic life these past few months. Actually, I was wrong with what I said earlier that I was stressed about my academic life these past few months because I was already stressed since my college journey started. On the other, it was fun. I found it still fun because I could still feel excited about what would be the next thing we would do in this course. Anyway, for those who don't know what course I am taking right now, it is education. I want to be a teacher soon. In the next years, I can finally achieve that dream. With the perseverance I hold, I believe in myself I can and will do that.
Just three days ago, I finally got my vacation. I was overjoyed after I submitted the last and most complicated activity I have ever done in my college life. After all, I was all done. I am now waiting for my professors to release our grades and finally know if I will still be on the list of scholars. On the other hand, I am not thinking about that for now. I am thinking to do the things I neglect to do before because I focused on much more important things. Those things I am referring to are my time in drawing, my inclination for movies and dramas, and practicing the music skills that I have neglected due to my academic tasks. Those are some things I am planning to do this vacation but on the top of the list, there is something I want to focus more on because it is the most impossible one to insert into my schedule whenever I come back to studying—it is to make time with my friends.
I would say it is hard to make a schedule for it because we, in the circle I created since my junior high school days, are enrolled in different schools. I am used to this since I went to senior high school. I was the one on the strand I chose because they chose the different strands which I hate the most. I chose a social-related course—that I prefer the most than the science and math one—because it is my weakness.  Yet, I didn't feel anything wrong because, at the end of our very days, we were still the ones who are together. We used to be together every time our school time ends. We walked together and eat together at the clock tower wherein we used to talk about the things that happened to us every day. Not until we entered college and met this pandemic; we did separate our ways and chose different courses that are vital points to have and get those dreams we invested in. Some chose the engineering path; some are put their fate in the medical path; some are invested themselves in food technology; some are believers in the advancement of technology so they chose the Information Technology; one has continued his path for creating films so he chose the path to become a director; I chose the root profession of all profession, I chose to become a teacher.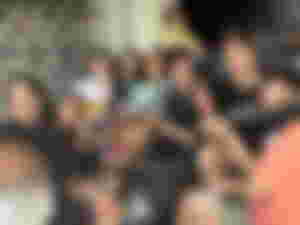 It was fun to meet my future professionals again. We look smart, brave, and fun here. I missed the things we used to do before. I missed the times when we look at each other first before we buy and go to the cashier because money is still a thing for us. But now the accumulating money is much easier, and making time with our friends is much easier than before. It is just the time that makes us unavailable sometimes. From this day forward, I won't let myself go out of the frame every time we meet. I won't let myself go without having at least a hug from anyone for you. I invested many memories and time with every one of you and I already tested myself with you in the difficult times so I know who I could go to if I have problems. I hope for more pictures like these but what I am excited to have the most is our picture wearing the uniform of the profession we chose to be in. Your future teacher is always here, waiting for more invitations. Let us enjoy our vacation.  
Thank you for reading this article.
You can read my previous articles here:
My Vision for the Next 6 Years.
The Most Stressful Yet Challenging Term of the Second Semester.
The Vacation is Already in Front of Me.