I Go for a Walk
I wake up early in the morning, as usual I do my everyday routine. I fix my bed, because my mother always said "fix your bed every morning so you accomplish one task every day". After that I feed my dog, wash my face and make a tea, specifically a black tea. Black tea helps with my digestion to run smooth and neutralize the acid, because I`m a bit acidic. As I drink my tea, I stare to the window and watch the trees and leaves sway with the wind, while the others fall, some leaves hold. I guess we are like leaves right?
After I completed my morning routine I decided to go for a walk, to get some fresh air, to see beautiful views and to meet awesome people. I change my clothes, pick up my phone and wallet and say goodbye to my dog, and I guess I`m ready to go.
As I`m walking down the road I see Joe carrying a bag, "Good morning Joe" I greeted him with a waving hand and a with a smile. "Where are you going Joe… I thought you opened a store near the terminal last month" I added.
"oh! Hey Mike… not a good morning" Joe said while he look on the ground " I closed the store"
"Buy why?" I said
"Things are just not falling the way it should be… I put all my money to open the store but, it never go as planned" Joe said with his face so blank and gray.
I cant come up of a word to say to Joe and I can`t even look him in the eye. Joe is one of my classmates back in elementary, he was a happy guy back then, now he graduated in collage with a degree of Business Management. Joe was married last year and now he will have a son.
I feel so sorry for Joe, but I think there is nothing much I can do. And I said " Joe remember in high school when we just finished our project and about to submit it but we ran out of time?"
"Why are you telling me this now?" He said, with curious face.
"Did you remember how that day ended?" I said. While look in his eyes.
"Yes I remember… we followed our teacher all day and until she got home and convinced her to accept our project" He said, and look even more curious. "And then?"
"I think you should do what we did when we chased our teacher all day, so she can accept it" I said.
"What did we do exactly?" Joe said, with an uncomfortable face.
"We never gave up until she accepted our project… we never gave up until we achieved our goal" I said, looking in his face with excitement
"I guess your right… I should go back and open the store, and I`ll give it another try" Joe said. His face is now look lively and happy
We said good bye to each other, he go back to the store and I continue to take my walk. I wonder if Joe is really okay, I felt that he is carrying a lot of burdens in his chest. I think I should visit to Joe`s store more often to check on him.
Now the sun is rising and I`m almost the top of the park, where the sunrise so pretty. And there I see a woman sitting in the bench holding her dog on a leash. I never talked to that woman before, but my mother said that woman lived three houses away from us. Last year their house was on fire, and nobody knows how the fire started. In the burning house, her son and daughter were trapped, her husband come back inside to rescue the kids. But the house collapsed burying her three loved ones inside. Since then her life never been the same.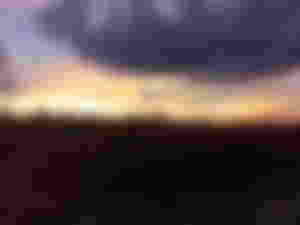 I wonder, what if the same thing happen to me, loss loved ones, how will I react. And if I'm going take my own life to follow them in the after life? Or Ill just continue my like nothing happens? i don`t really know, but one thing is for sure i dont want that to happen to me.
As I`m taking picture of the park the woman stand and walk towards the gate to where I stand, while she is walking she glance at me and smile. I think she already moved on.
I thought to my self, is this life? Full of joy and happiness and later there comes the day that you`ll be sad and depressed? Is it just a cycle that never ends and we just can't know how to end it? Is life just an illusion, a dream or a simulation? What if I die today will they miss me?
There are many questions in life and I think it is better to be a mystery. Life is sad and happy and sad and happy, we can`t do much about it, because it just life after all. All we can do is never give up and move on.