3 months in Read together with 92 Subscribes
I never thought that I will come to this far. In my 3 months of staying here in Read my Journey here was very Challenging. Recently, I am thinking not to write regarding with this but I realized that this is milestone and I should celebrate this. I wasn't active for almost one month in thid account because of reasons and possibilities, even though that was happen, I am thankful that I am here continue grinding and interacting to those humble writers.
When I came back to this account, I am happy and blessed because there writers who stays to believe in me, believing in me that I can and I can be more. Writers who never forgotten me for who I am and I am so blessed that they still know me as MJAYTECH or MJAY, thank you for the unending support that you always give in me. In my 3 months of staying here, I know that I don't have any achievements that I can share to all of you but I just want to take this opportunity to give thanks to those writers who always leave comment in my articles.
To @Ling01 :
Bff thank you for always appreciating and leaving comments to my articles. I really appreciate your kindness, I am do glad that we became best friends even though we only each other in virtual world. Looking forward to meet you oneday, I want to know about you. You are the one that I will never forget jud bff kay gi timan-an jud nimo akuang writings ba. Thanks for always sharing your blessings in me, thanks for the Sponsorship. Love lots ❤️
Hi ate Jean, thank your for always leaving comment in my articles and more thank you because of the good heart you have. Thank you for being one call away, thank you for sharing your knowledge in crypto. Thank You for guiding me ate and you will always be remembered. I am so blessed that I know you in this platform ate, you are one of the users that is close to me. Just keep pushing life ate because puhon kita napud ang paboran sa panahon.
I am thankful to this two pretty ladies because they are the one who introduced me to this platform. Thank You for bringing and introducing me to this site, at first I doubt because I don't have any background writing articles. But because of the advices and tips that you shared to me I reach one month here in Read. Looking forward that Oneday you will go here in our eating some snacks and sharing to each other about Read, Noise and Crypto. So blessed to have you, Godbless you both.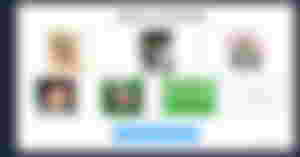 To this 5 Sponsors who left in my Sponsors Block, thank your for not forgetting me. Thank You to your generosity that you didn't deprived to me. I hope that my Sponsors will be back agin, I know that this will take time and I am ready to take that time. More to come with us Sponsors.
Whoever this people are, thank You to each of you because, I will never have this number without you. Looking forward to see you in my comment section and talks about life experiences. It's an honor for me to be one you subscribe because it means you want read more about my article topics everyday.
To my Readers, Comentators and Upvoters;
Thank You for always reading my articles even though sometimes it was a nonsense topic, you still there willing to read my article. To the people who always drop comments, I highly appreciated each of your comment because that means you are sincere and you really read my article. To those writers who always upvote my article, small or big upvote I highly appreciated that, thank you for your generosity and sharing your blessings.
3 months and Counting with Read Cash, I am more excited to the days will come. 3 months was a short time and I hope and pray that oneday I will celebrate my 1 year here in Read Cash. Even though, I don't have any earnings to share with you I am still thankful to all of those moments that we've been.
Thank You for Renewing your Sponsorship @Kleah97 and to @Jijisaur for the Sponsorship My Friend.
Lead Image was Edited by Yours Truly