A Newbie in Read.Cash
"The journey of a thousand miles begins with one step".
Lao Tzu
Like Lao Tzu said, a thousand-mile journey begins with one step, a new step that might change my life. My journey starts here at this time when I engage and write my first article. Hello everyone, I'm glad to introduce myself to all of you, I am Maria Cassandra but my family and friends call me in my nickname Lycing and you can call me on that nickname also.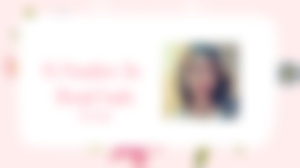 I am a newbie here and I was invited by a friend of mine which is @Codename_Chikakiku, actually, I was invited a couple of times but I was hesitant to try it since I'm not good at writing English that's why I asked if it's okay to publish Tagalog then he told me it's acceptable but English is more understandable that is why I am trying my best to publish this article on English.
I really love reading stories, especially on Wattpad I'm a fan of the creation of Jonaxx. I love reading stories with a combination of Tagalog and English for me to understand the flow of the story. In fact, I can finish the whole story of a book within 2 to 3 days if I want to.
My next hobby would be playing badminton, it's also under the influence of my friend since he's also a badminton player and always show no mercy on me. Literally, he would give a lot of smashes which I can't receive. Despite being a bully friend, codename_chikakiku is also a very good friend to me, he's always there to support me and give any necessary help I need. Though I feel pity for him cause he still had no gf but he said he was looking for a sugar mommy.
Then the last hobby I always do is looking at the wilderness and start thinking a lot of things, that's already my hobby since I always do it, every time I'm with someone then a minute later I have my own world already and my friends will start asking if I'm okay, and guess what I always respond them with a nod.
My friend told me that it was fun here, I will meet a lot of Filipino community here and met other single moms here, another thing is I want to explore something new in my life. I have a little skill in writing and I will use it for me to earn. The main reason is to earn passive income, this life hits me very hard, I'm on a situation which I feel like I'm already a burden that is why I need to find a way for me to earn. And my journey starts here. My friend already told everything about read.cash but the truth is I only understand basics like how to read articles, how to publish and what's currency used here which he told me it was BCH that was displayed as dollars.
I also joined here to support my education, I'm already grade 12 student taking CSS course and once I graduate I'll find a part time job while studying in college cause it was my dream to have a diploma and show to people who belittle me that I can graduate even if they don't believe. I am also bless to have a bf who always support me on my needs, he shows me love and care that I want to feel. All of this steps I made will contribute on my future.
I am hoping that the community will accept me and support me, I am not familiar yet on read.cash that is why I am hoping that someone could make me understand how this works. I also expect that other users will appreciate my work even if I'm not good at english. Once again I'm lycingg and it's nice to be here, hoping that we could be good friends. Good night everyone.