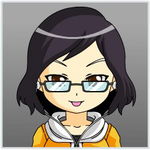 Ah yes, the love month of February makes us think of romantic things. Gosh my brain just came up with something while I was playing a mobile game! What the heck?! 😂
My random thought pop up of the day happened this afternoon. It comes in the form of me & an online acquaintance meeting up in another country by chance. (Wow huh.)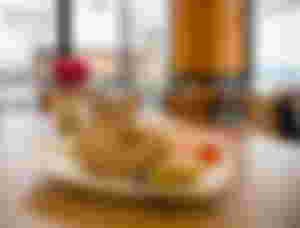 It seemed like we were maybe in a cafe or somewhere where there's food and I'm eating and using my phone. Suddenly he would see me or I would see him from across the room and then he'd come by my table and talk to me. Yeah greetings, small talk and bla bla bla. 🙄
We then proceed to talk abt relationships and such like we're gonna be a couple. I'm like, hey brain, where the heck is this coming from? 😮😂 I'm busy playing and you're giving me imaginary romantic scenarios? I'm not even asleep yet! 😂
I mean, I don't even like the guy. Never in my wildest dreams did I ever think about or of him in any romantic way. Hello? Brain are you okay? 😂 Is this my body telling me I should finally get married soon or it's just a random message from the universe? 🤔
Maybe... am not sure here but maybe it's because he's secretly stalking me? 😂😂😂 Come on why else would he just pop in my head without me even thinking about him at all? That's impossible! 😆
I don't even hear anything from him, not even a like, a comment or a message and now this thought? How weird of you dear brain. 😂
Let's see... Maybe I should start hiding my photo posts from him huh? 🤔 I mean, we're not even friends and have never met in person!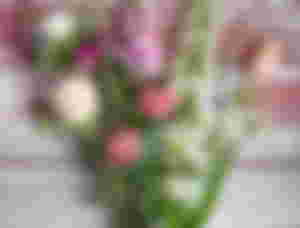 Is it because Valentine's Day is coming up that's why this is happening? 😂 Puhleeze I am not the romantic type but my brain thinks otherwise. Makes me kilig a bit but reality is, I don't think we're a match at all.
Come to think of it, this isn't the first time I suddenly thought of him and relationships. 🤔 Weird.
A few years ago the first random thought of him just popped in my head. I wondered why he didn't have a girlfriend yet. Well at least I wasn't seeing any posts about it. Like, why would I even care my dear brain? 🤦‍♀️🤣 (Pasimpleng chismosa ka brain ah. 😂) I don't even think about him at all.
Of course I checked his FB profile some time after that and voila! Suddenly there was a photo post of him and his foreign gf! Really huh? So? 😂 At least my suddenly chismosa mind seemed satisfied to find out about it even though I couldn't care less.
Clearly something is going on somewhere. Do I have an antenna tuned into the guy for some reason? 🤔 Maybe he broke up with the gf and is now looking for a gf? 😆 Well hey we can go on a date here maybe. No need to go abroad, or do we have to? 🤔😂 Whatever! 😆
For those curious to know, more than a decade ago we became part of an online forum/website. That's how I got some online friends I have never seen in person, just like him. Of course I was able to meet some but he and I didn't join the group's regular meetups.
Also several years ago, at the urging of one of our online friends who eventually became my manager in another job, I sent the guy some messages hoping he would be a customer. Nope, didn't happen. When I got into real estate I also invited him to some condo open houses and such. My rare messages to him would always be about school or work. Periodt. 😂
No I do not have any crush on him. Oh I rarely check his online posts too. Why then would such thoughts just come in my mind!? I'm like, what the heck? 😮🤔
Anyway, these days he's more mainstream and sort of a celebrity in his field and quite richer than before. Eh... prenup is still numba 1. Take that from a real estate agent and jaded person like me. Haha.
That statement is because my brain even went to a scenario of us talking about having kids and possible marriage. Holy moly, all in one meeting? What? That fast? The heck. 😂 Hey brain, wait 'til I'm asleep before you come up with all these sudden crazy ideas. 😂
Anyway tonight, instead of excluding him from seeing any photos of mine I just blocked him on messenger. Perhaps I will exclude him from seeing any future photos of me too. Wait I think he's also following me on Instagram or am I the one following him? 🤔 *Checks and finds out he doesn't follow me on IG but I am following him like our other online friends.*
See? Why in heaven's name would he be thinking of me? 🤔 What, I dunno what he's thinking and he's probably not even thinking of me but I just wanna block him on Messenger. If he would want to talk in the future then he'd have to put a comment on any post of mine. I doubt it but whatever. 😂
Has this situation ever happened to you before? 😅 Should I make a story out of my mind's sudden thought pop up? Haha. It won't be a kilig story though unless you want it to be. 😆
XOXO,
* * *
All images from Unsplash.
Not a member of read.cash yet? Click here to join us so you'll have some Bitcoin Cash too! Let's microblog on noise.cash as well!
Sponsors of LucyStephanie