Not again:My worries
Good day, awesome people! How are you all? I'm always asking this because I want to know if you're in good condition and I hope you are :)
I'm absent yesterday so I'm planning to write two articles, hopefully, I will do it.
---
Are you scared of fire? Well, me, yes I am. I don't want to play with it. It's dangerous. I always told my younger sister before to not play with candles, matches, and anything that can cause a fire. I always check the wire and extensions in our electricity, I don't want to plug in so many things in the extensions at the same time, it might cause overload and overheat. I get mad when they forgot to unplug their chargers after charging. I am being careful and mindful as I have had traumatic happening before when our house was swallowed by fire.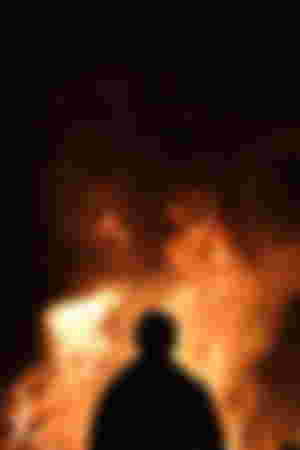 Year 2012 of July, in the middle of a silent night. We are all sleeping when my mother woke up hearing the noise coming from our neighbor. She heard something like "sunog" fire, so she instantly look at our window and she saw the fire that is near already in our house. She woke us up and told us what was happening, I am half asleep half awake that night but my adrenaline rush wakes me up fully, I brought my school bag with me and grab my sisters out. My father and mother went back to our house to grab some of our things but the fire is very fast. While my father is thinking about what things to bring outside, my mother pulls him as the fire touches our wall but my father isn't in following her as he thought the fire doesn't reach our house yet since he is facing the cemented wall while the fire already in our wall which is located at his back, so my mother told him the fire is already there. That's when he's back to his senses and they both run outside.
We evacuated in the park near our house. And a few days after the fire, my birthday comes so I had my birthday without a house.
A candle that they forgot to put out. A piece of a candle burned our house and many families stays in evacuation areas.
End of story.
---
That explains why I'm very cautious when it comes to fire. I don't want that to happen again. I don't want to feel the nervousness and fear that I felt before.
Last Friday, exactly one week now there's a situation here in my partner's house. I thought it was a normal blackout when the electricity went out so I unplug all the appliances but I shouted in shock when there were sparks in my back located in my inlaws room. And I can see the fire, I heard my father in law told my partner to turn off the breaker immediately which my partner did. The fire went out since there was no active electricity. I can smell the burned wire and my nervousness is to the highest level. Good thing, I didn't go into a panic situation. I just secured my baby.
Thank God. There's nothing worst that happened that night. My partner and his father put out the burned extension and they just used new. So the electricity went back instantly.
---
Thank you for reading guys! Let's all keep safe and be cautious always.