A cake for my baby's nine months old and sisters celebration
What's up people? It's already 1:22 am here in my place, who's still up? I can't sleep, since I work in a call center my body clock seems adjusted already. I also had a long hours of sleep this afternoon and woke up 8 pm. It's weekend so I don't have a work yey!
Anyways, waiting for my graduation date update bores me, our university haven't yet posted an announcement about it. Many students gives their opinion about this, and some says what took it so long? Even our grad pic, no update and also about the set up. Almost all the schools here already done with their graduation event and my batchmates in the other universities already had their pictures wearing black toga with their family. We are just excited to that event but until now our university haven't posted an update yet. Well, we have no choice but to wait.
---
I alrrady mentioned here that I have two younger sisters. And this year is very memorable to us. My youngest sister graduated in elementary last Monday andy sister second to me had their moving up ceremony last Wednesday, she's now incoming grade 11 (shs) while me, I am graduating in college. See? Triple important events happened in one year. I just hope our mother is here to see this although we don't have big celebration unlikes others I make sure that I gave something for them, and for them to know I appreciate them and that I am proud to them.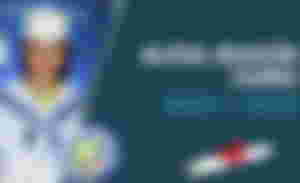 This is our youngest, she graduated in grade 6 last Monday. I have a little stoey to share with you guys, before she was still in grade 4 after our mother died. When we send her to school she will just went to the other gate and headed back home and told us their teacher was not around, she keeps on doing this for two days and that when we discovered that she just do it even though her teacher wasn't really absent, we asked her why she don't want to go inside. She just cry and said nothing. We understand her, she just want our mother to send her to schoollike before when our mother was still with us. I am thankful that she went back to becoming happy and willing to go to school again. I am the one who send and fetch her.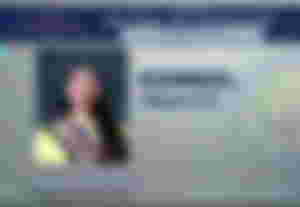 This is my sister, second to me. She's incoming shs this school year. She said she want HUMMS strand, and she shared to me that she try to enroll in Arellano, since she's from public school, the university offers no fees to them, no tuition fee. She also consulted our father and she said our father agreed too. Last year, I got worried because she wants to quit school for some reason, she said she can't catch up but I cheer her up and helped her catched up to the modules that she missed. She's active in church, she will just go outside when it is related from church. She's also a quiet type of person. I am happy that she continue her studies and didn't give up.
And to congratulate them I bought them a cake. I also promised to them I will buy them new clothes.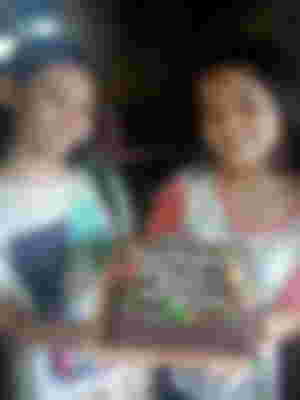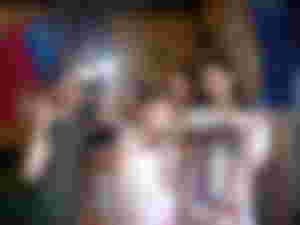 They are very happy and me too, seeing them smile. Sorry for the background hehe.
Last July 3, my baby turned nine months. We don't have celebration at that day because we don't have budget and the money I kept for his cake was spent in buying his meds. I already shared here that my baby has cough and we brought him to the clinic. Good thing that I still had money left that day.
So, last July 5 I also bought a cake for him like we usually did during his monthly celebrations.
Here are some pictures my partner took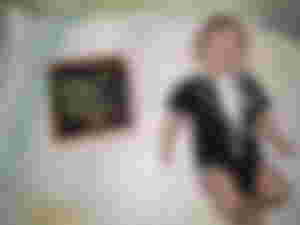 He really want this kind of pose hehe, cutie cutie face. We ordered his outfit from shopee.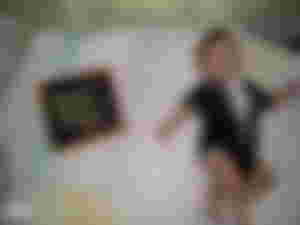 My partner took these photos at 1 am since my baby was sleep the whole afternoon so I wasn't around that night. He sent me these photos via messenger while I am at work.
We don't have spaghetti or shanghai because we need to budget our money, we promised to cook foods next months for my baby.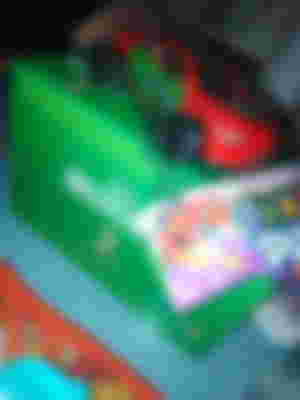 We also went to grocery store to buy milk and diaper of my baby. And while walking we saw a car toy in one of the store there so we buy one for our baby.
Whenever my salary comes, these are my number one priority. It's okay if I can't buy what I want as long as I can provide the needs my baby and family.
My birthday is on July 14, next week already but I said to my partner not to celebrate and not to cook foods since it just a waste of money which he disagreed. He said we should atleast celebrate, hmm let's see if our budget can hold until that day come hehe.
---
Thank you for reading guys, I really appreciate each of you :)
-Loveleng18