Are My Struggles With Asthma Will Be Here Forever?
I first woke up at 6am and already didn't feel good. There's a lump in my throat and I felt cold and hot at the same time. I don't want to get sick because there's a lot of things that I need to do.
I stood up and went to our kitchen to drink a glass of water and took my medicine immediately. Our house is kind of far from the city so we are making sure that we have medicines in case of emergency.
I headed to my sister's room and I continued to sleep despite the heaviness of my head.
I woke up for the second time after two hours and that's when I noticed that my breathing is not normal again and I realized I'm dealing again with asthma.
For our additional knowledge:
Asthma is a chronic respiratory condition that affects the airways of the lungs. When asthma attacks, these tubs become inflamed and narrowed which makes it harder for a patient to breathe.
I've been dealing with asthma ever since I was kid. We didn't have money back then to buy my own nebulizer so we had to go to the municipal health clinic for check up, to nebulize, and get free medicines.
Back in high school, I would go to the University hospital if I get attacked by asthma. Growing up with weak lungs, they told me not to do strenuous activities and to always check for my sweat especially in my back but in ninth grade, I joined the training for CAT. I was also an active member of Girls Scout and I tried going to provincial encampments.
I didn't want to be a person who's just sitting on the corner, afraid of getting tired.
Shortness of breathe. It's hard because it's like I'm losing out on air and I need to run through my breath. If it's getting worse, I often have wheezes.

Difficulty in sleeping. If I lay down, it's like I'm being drowned. If I have asthma, I just put a pillow on my back on the wall and sleep like that. It's uncomfortable but I have no choice.

Experiencing chest pain. This only happens when it's worse or if I'm having a cough. My chest will feel so heavy.

Limitation on my work/activities. Simple activity in a short time could make me feel tired already. It's annoying especially if I have lots of things to accomplish.

Nebulize every 6 hours. It is helpful in a way I am not knowledgeable of. The struggle here is the rapid heartbeat I experience every after session.
For today, I didn't use my nebulizer. Also, I drank warm water only. And I took my vitamins which I often forget.
Th happenings for today, well, I didn't do a lot. I was tired from last week. My papa went home and we had lunch altogether.
He brought home food for us! Here are they: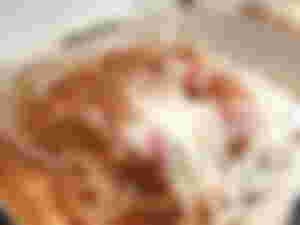 Spaghetti for me and for my little sister.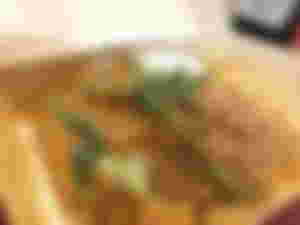 Palabok for my mama.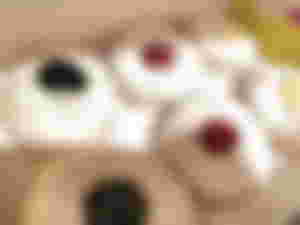 And donuts for all of us. Of course, I reserved the bavarian flavor for me because that's my favorite.
———
I still don't know how or when will my asthma leave me alone. It's a chronic condition so it's for a long-term. For some, it could fully go away. For others, it could go away then come back. And for the remaining, it could only be controlled.
Most of asthma cases are hereditary. As for my case, I inherited it from my father but his asthma has already gone away. My grandma and tito also has asthma and they still experience the same struggles as I do.
That's it for today, I guess. I'm gonna try to sleep early tonight to have a complete rest for the coming week.
Good night and thank you, readcashers! I enjoy being with you on this site.
Until next time!
All photos are mine.
Lead image is edited in Canva.