Homemade cheese chili dynamite
Food is our comfort. We get our physical strength from the foods that we intake. Some of us find refuge in foods when they were feeling stressed. We are also grinding hard overtime for our basic needs such as food, clothes, and shelters.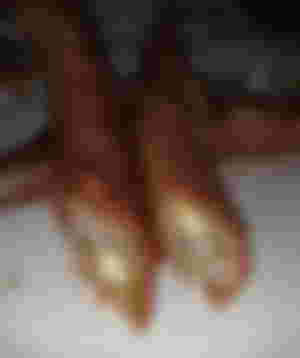 Yesterday midnight when we passed by the wet market before going home hubby and I bought some veggies and pork meat for our dinner/early breakfast. He also suggests that we are going to cook something the next morning and going to buy the main ingredients at that moment. So we did, he want something spicy and the only thing that came to his mind was dynamite lol.
So for the ingredients, we bought green chilis. At home, we have minced pork and the leftover cheese. So my article for this time was our homemade cheesy chili dynamite lol.
Ingredients:
Lumpia wrapper, Minced pork, cheese, 7 pieces long green chilis, chopped onion, and minced garlic. Oil for dip frying and one beaten egg wash.
Procedure:
Saute the garlic with a little amount of cooking oil in a pan until brown, add the onion and saute until translucent. Add the minced pork then stir occasionally. Cook the meat on a low fire, simmer for at least 5 to 10 minutes, or depending on how much meat to cook. Hubby cooked that in a few minutes only because it was just a little amount of meat.
While he was cooking the meat I am slicing the cheese into sticks for the filling to add up with the pork meat. I also disassembled the lumpia wrapper one by one. After the meat cook hubby cuts the chilis on its side without damaging the other side, it's just enough to remove the seeds from the chilis to have a space to put the filling inside. I forgot to take a photo of the uncooked wrapped cheese chili dynamite earlier to present here sorry.
Hubby put the filling one by one, first is the cheese sticks then stuff the cooked pork meat on top of the cheese inside the chilis. Then it's my turn to wrap it with a lumpia wrapper and sealed it with egg wash to prevent the wrapper from spreading when cooking. Until all the 7 pieces of chilis were done stuffing.
Time for frying and hubby did the job. After heating enough amount of cooking oil in a pan he did fry the chilis in batches to prevent them to stick with each other. Fry it until golden brown.
Since we had no mayonnaise for the dressing we just opt for spicy vinegar which is the available dip we had over the counter. But this dish is best to dip with mayo garlic, to add up a bit sour sweet taste to the hot kicking taste of the cheese chili dynamite.
We pair our homemade cheese chili dynamite with noodle soup. Dinner is set and we both enjoy the dish for dinner.
It was just a simple dish to enjoy. You may try it too in addition to your main course. If you are not so fun of spicy food you can let the chili be soaked in water after the seeds are discarded then wash many times to reduce or remove the spicy taste.
---
Until then again dearest readers. I have nothing so much to share this time but just this simple menu that we enjoy this dinner. I hope next time I could share a better article with you guys.
I thank you all for being with me again. Thank you for all the support, upvotes, and likes. God bless us all always.
💚💚💚💚💚💚💚💚💚💚💚💚💚💚💚💚
I love you all🧡🧡🧡.
Article #74
Published: January 31, 2022
Time: 12:26 AM PH 
All images used owned by me 
     unless otherwise stated 
Love,
Kendy42🧡