Today's Raging Soul
Date: December 28, 2021
A cold evening to everyone❣️ 3 days left and we will celebrate and welcome the year 2022. Is everyone excited to open another chapter of ourselves?
Another surprise welcomed me that I never really expected again. Around 7:00 in the morning when I open the site and Kuya @TengoLoToDo comment is at the top of the list saying (see the picture). Literally, I am shocked because I know in myself that my entry is not as good as others. In other words I don't believe in myself regarding my writing or article, not just that one but all of my articles published. So, it is really shocked to be one of the winners🤧 and thank you so much Kuya.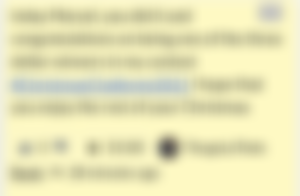 This is the second one Christmas challenge that I won with the same price of $3, total of $6 or 300 pesos in our currency. The prize I'll be using is buying my dream sandal as a reward for myself and I am planning to convert all my earnings this December 30, 2021for our New Year's Eve. I was so tempted yesterday night because the market was pumping but I have a strong feeling that it will continue to pump. Hopefully, I will not regret my decision.
---
Today is Tuesday hahaha. Today's weather is gloomy like the raging emotions I have within. I really hate waking up on the wrong side of the bed because it will ruin half of my day just like today. The weather reflects what is inside of me not just once or twice but in many instances. I am in the moment of being okay but another wave crashed and wrapped me again. When the one I trust who can be by my side just left me without a single word. Maybe this is what the universe wants me to end in 2021.
Opposite of what I expect. This is what I don't like to expect because it will just result in the opposite. They say "life is unfair" in my situation right now. I could say it is true. Good weather makes my pal feel like he is dying inside.
Deep inside, small people start to wake again from being buried in the world of the dead. It starts to encourage me again to let the thick red flow until it becomes lifeless from the aim of no pain, no tears, no self-pity and no more abuse that I could feel. I want you to summon and listen to that sweet and solemn voice but something stops me. Stop me from dwelling on that voice and being conquered by them.
Another voice stopped me. This kind of voice is louder but not to the point I could  feel the annoyance. Instead, through the voice I could feel comfort, love, joy and hope. Voice that assures me that no matter what life throws at me He will be there no one does. A voice that I forget to listen to. A voice that makes me love and secure.
You are what I waited for the most. You are the one who sees my ups and downs. You are the one who cheer me up that everything is under control. You are the one I wanted the most and you are the one who waits for me to come back. Today is the day of my return. Even though I am ashamed I left completely, I returned wreckly. I return carrying my brokeness. I'm exhausted. my tiredness and my emptiness. Honestly, I don't want to come back but I left no one to be called and lean on.
Sorry, for being my least priority. God, you're the one who can heal this poor creature of yours. Finally, Father, I came back home.
Happy to see you in sponsors block❣️
Thank you ate @Lyke for renewal❣️
Lead image is mine.