A travel with friends is always worthwhile, regardless of how long the journey is.
In this article, I'll tell you about my recent camping trip with my pals. Our other boy friends were unable to join us due to family obligations, and some were unable to join us because their women refused to let them lol. And It's the first time we've seen each other again since April.
So, here's how we got to our camping trip!
---
Yesterday, before that day, my friend already told me that we should gather at our other friends' house to prepare everything. At exactly 9:00am, we all should be there gathered at our friends' place. And because we're Filipinos, I woke up at exactly 9:00 am lmao. They texted me that they were already there and I was the only one left. But it's okay because they're still preparing and cooking our food. I was still laying in bed while chatting with them at that time. I told them that I would go eat breakfast first and then take a shower. Lol it's almost 10 am already.
When I was finally finished, it was around 11:00 a.m. My friend had asked if I wanted to pledge something for our food and snacks the day before. But I'm stumped as to what to buy. I'm not going to buy chips or "chichiryas" because I know several of my buddies have already done so. Instead, I decided to order two pizzas. So I went to a pizza joint and ordered an all pepperoni pizza and a  ham and cheese pizza. I was about to add Hawaiian, but then I realized how much they despise pineapple on pizza. So I sat and waited for my order for 25 minutes. They were already looking at me as I unlocked my phone, hahaha. They assumed I wouldn't show up, lmao
At 11:50 a.m., I arrived at my friend's house. They looked at me as though they were about to attack me when they noticed me. They asked as to why I was late and where I had been. But when they realized I was holding something and discovered it was a pizza, their expressions changed into a kids expressions lmao. "Oh, please sit down, please sit here," they say. "Would you like some water?" "What exactly are you looking for? Do you want a massage?" I can't stop myself from laughing at their antics. Why are my pals so obnoxious? They're completely insane. Lmao
At 12:30 p.m., we left the house. Consider how hot it was at that time.
---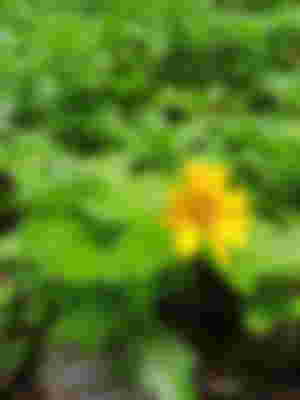 I observed this adorable small bloom that looked like a little sunflower while heading to our camping location. I'm not sure what this flower's name is. I took a picture of it because the color is so appealing and it reminds me of a sunflower. On our way, there are a lot of those kinds of flowers.
This is why my legs are hurting right now. It's so steep at the top that I'm on the verge of crawling because my feet feel like they're going to give up. We took a break at the top since we were already tired and our legs were trembling. lol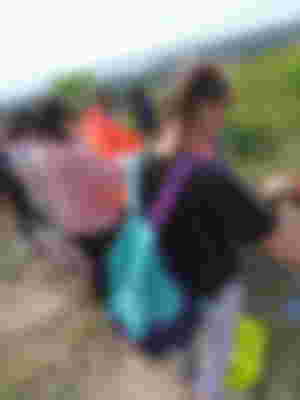 When we arrived at our destination, they began to set up the tent. Because there are no rocks on the ground and it is also plain, the top is the best area for a camping site. However, we were disappointed to see a few bottles of alcoholic beverages tossed away all over the place. There were a few plastics strewn about by some reckless creatures. To make the area more attractive, my friends and I decided to pick up the rubbish and deposit it in a plastic bag.
When you reach the peak, all of your exhaustion will go as you take in the breathtaking panorama. The wind was so powerful that it nearly blew the tent away. We couldn't concentrate on setting up the tent because these girls kept laughing. Our tent was on the right side of a large tree. And my wacky companions insisted on climbing the tree. They have the appearance of monkeys climbing to the top of the tree. LoL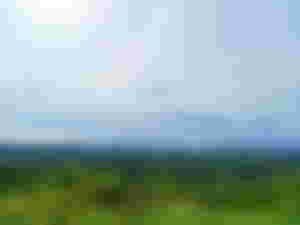 This was the breathtaking view you'll see when you're at the top. 
At 2:30 pm we had our lunch. We had rice, pancit canton and sardines with egg. Simple but fun when you're with a group of wholesome people.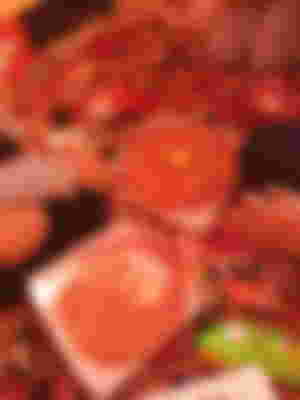 We weren't able to watch the sunset because we left at 4:30 pm. And I arrived at home at exactly 6:00 pm because we stayed for a while at my friends place.
This will be one of my favorite moments with these crazy people. I'm torn between going back again or not. Because they're planning to have a morning walk and watch the sunrise. Maybe I'll pass next time lmao.
---
©All photos above were all mine.
08-04-21
---
Author's Note:
Hey, guys. I wasn't able to publish an article yesterday because of this. When I arrived home, my body feels so numb and I was so tired yesterday. Sorry I wasn't able to visit some of your articles. Today, I slept all day, I literally sleep right after having my breakfast. Same with my super late lunch. lol
I'll make bawi nalang tomorrow. ✨
Thank you for passing by and spending some time reading my article.
You can always hit the Like and Subscribe button if you want to.
Arigathankyougozaimuch ❣️