First times are always memorable and fun
0160302022
Hello there, my lovely and super-wholesome read.cash buddies. What is up everyone?
We're already in the middle of the month and in a few more days, we will be welcoming the month of April, which is also my birth month. You know what, I have literally no idea that next month will be the month of April. I swear, I am not even kidding. lol. I just found out today when I accidentally opened the calendar on my laptop. I just forgot my birthday and birth month for a moment, and when I looked at the next following month of March, that's when I realized that April was my birth month. I just laughed when I suddenly remembered my birthday because I literally forgot about it. lol.
And for today, I will be sharing some of my first-time memories that are still intact in my precious core memories, and most of them are totally hilarious. So, I read one of Ate @Yen 's articles the other day about her first-time encounters, and I can relate to some of her first experiences too, and it made me want to write mine as it brings back those memories of my childhood. So, without further ado, here we go!
---
My first time riding a pump boat
For those who didn't know, pump boats, commonly called "bangka" in the Philippines, are small boats powered by a diesel engine and used for inter-island transportation and fishing.
I can't fully remember how young I was at that time, but I can still remember the destination where we were going during that time. That day, I was with my mom, and we were travelling alone to the city. That day, we were visiting my father's hometown, which is on the island of Cordova in Cebu. And it was also my first time visiting that place. Out of all of my siblings, I am the only one who hasn't visited my father's hometown, so mom decided to take me with her. When we arrived at the pier, I was amazed to see boats everywhere.I have seen small boats in our province, but I haven't seen so many boats or big boats. When we boarded the pump boat, it was a big pump boat, and there were many passengers on board at that time. I was so careful crossing to the boat because I imagined that if I slipped, I might fall into the water and might drown. Lol
When we finally were able to take a seat, I was seated on the left side, and when the boat started, I felt like my head was spinning and my stomach was also in the water. We aren't wearing a life vest because the life vest was just on top of us. Every time I look at the water, I can't help but imagine what if the boat sinks and what if we drown and then the shark eats all of us. LMAO.
My first time riding an escalator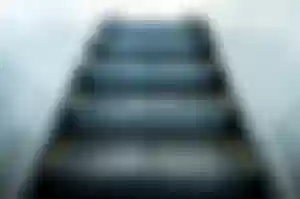 My first time riding on an escalator also took place in the city of Cebu. It happened after the Sinulog festival, two days after the event. Our uncle brought us to the mall along with my cousins to treat us as his Christmas gift to us. It was also my first time entering that mall, and I was not familiar with everything in my surroundings. When we finally entered the mall, we went upstairs and took the escalator.
Every time I ride an escalator, I will always remember the first time I rode one. When I was young, I always watched Final Destination, and we all knew that it was a gore movie. When it was my turn to take a step on the escalator, it took me a few minutes to finally have the courage to take a step because I was so freaking scared that my feet would get stuck in the escalator and my whole body would then get stuck too, and I might die in that mall stuck on an escalator, which is so embarrassing. lol.
It's funny because even today, there is still a part of me that gets scared that my feet might get stuck. Even though I've been riding an escalator a hundred times, there's still this childhood trauma in me that will probably get stuck in my memory forever.
---
---
Jini's Note:
Hello, hello there lovelies! It is so nice having you guys here, spending a minute of your time reading this random blog of mine. I really appreciate your presence here.
You can always hit the Like and Subscribe buttons if you want to.
Arigathankyougozaimuch :>