Are you nuts?
Hey there lovelies, how's it going? How has your day so far been? For today's write-up, this will be another random daily life of myself and how my day went so far.
---
Last night, I slept at almost 2 am. I don't know why, but I couldn't sleep early last night. I already went to bed at 9 in the evening, but I just couldn't sleep, so I just turned on my laptop and did some of my activities so that it would lessen my lots of pending activities. I just kept myself busy that night so that I could feel sleepy, but I didn't notice that it was already 1 am and I had already finished my work and submitted it. After that, I closed my laptop and went to bed again, but still couldn't sleep. My insomnia attacked once again, which is so annoying because I really needed to rest as it was so very late already. I just closed my eyes and forced myself to sleep until I just woke up the next morning.
What I hate about sleeping late is that every time I sleep late, I always wake up so early, like I literally only had five hours of sleep. That makes my body feel so tired every freaking time. So, I woke up early and checked my messages if there were classes, and thank goodness that none of my professors were present in the morning, so we didn't have a class. I was spending my morning reading some articles and doing my never-ending activities. As I was surfing the web, my aunt called me and asked if I wanted to buy some peanuts. And she said that "nanay" was here, my grandmother's sister.
Nanay arrived and brought a paper bag along with her, as I assumed that it was the peanuts that she was selling. She told me to buy the peanuts that she was selling. As I looked at the paper bag, there were two plastic bags full of freshly harvested peanuts. I asked her how much the peanuts were and she said that each plastic bag only cost PHP75 each, so I decided to buy the two plastics left. I don't really like peanuts; I hate eating nuts because they stick in between my teeth whenever I eat some.
I am not a peanut lover or any kind of nut out there, but I do eat almonds, but not that much because they get stuck in my teeth, which annoys me the most. I gave the other plastics to my grandpa and left the other plastic of peanuts with my mom because she is the opposite of me. My mom loves eating peanuts so much that she could literally eat all of those peanuts in a plastic bag. Whenever we go to the market, and every time she sees some peanuts, she wouldn't hesitate to buy some, especially those fresh and not cooked peanuts. They are the same as my younger brother. I am the only one in the family who doesn't really like eating nuts.
When I bought the two plastic bags of peanuts from her, she was so happy because she had finally sold all of the peanuts. I also gave her some extra money so that she could ride back home instead of just walking a few kilometers under the hot burning sun. She was so happy when I gave her some extra, and that made me so happy too. After a few minutes, Nanay then decided to leave early. After that, I then returned to my room to continue what I was doing earlier. I also brought some peanuts with me as I wanted to taste our nanay's freshly harvested peanuts.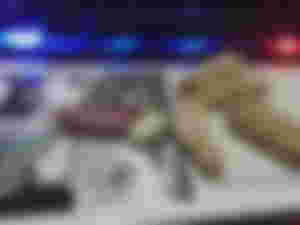 Am I the only one who eats peanuts this way? I'd be so embarrassed if none of you ate the peanut as I did. LOL. Because I don't like eating the skin, aside from the peanut itself that gets stuck in between my teeth, the peanut's skin would also get stuck in between my teeth, which is so annoying. LOL. And yeah, you can call me weird for eating the peanuts like that, I don't mind. Teehee.
---
Until then, see you on my next blog!