Grand alumni homecoming
Date: July 28, 2022
Before I will start my article today please allow me to thank my sponsors first. If you don't know them yet, you may check for them and read their wonderful pieces. I will be glad seeing you too in the block.
---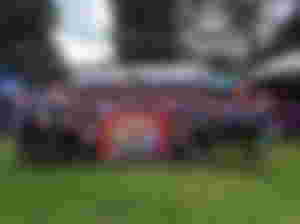 I never know what grand alumni homecoming is until yesterday where I attended the first ever Grand alumni home coming of Palkan National High School.
I graduated in high school last 2005. Since then, I never met my high school classmates as like before. Though I met some friends and some classmates but unlike yesterday that I met almost all of us in the batch.
Imagine after 17 years before we decided and give time to go back to our alma matter. It's been a long long years and there were lots of improvements and changes not only in the school but to the students as well.
We have a 50.00 ($1) as registration to help fund for the school project and to be used for the said program.
The program started with a caravan where every batches provided their own banner. Some students already had vehicles and they used it for caravan, others have jeepney and many alumni have motorcycle.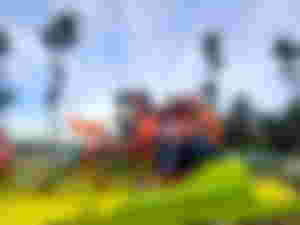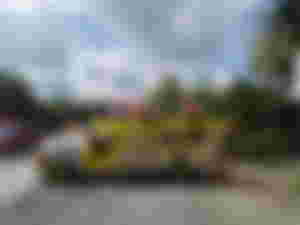 Our batch have jeepney but most of my classmates choose to ride at the top of it. I wanted to join them as I experienced being there at the top when I was still in elementary, i think. I wanted to be there too but I can't because I have my son with me. Yes, I attended alumni homecoming with my son because as usual I am the one who is taking care of him. I can't live him behind and he will not allow me to go without him too.
The caravan started in the school and we pass through the whole barangay and went directly to the next barangay and go back to school.
The history of the school was also given and we found out that there are only two teachers who remain being there. Our teachers before were also invited and we are so glad to see them again after 17 years.
Every batches gave our yells but unfortunately our batch didn't perform well as we hadn't have time to practice for it. But still we enjoyed it.
The lunch was per batch and we had our own tent. Every batch prepared their own food and eat together. It was a great lunch where everyone enjoyed the food while chit chatting to each other.
After lunch, every batches find their way to have pictorial. This is one of the best moments as pictures will give another memories to cherish.
In the afternoon parlor games followed and we had a big bingo game where the pattern to win should be the letters in PALKAN NHS. The winners received kitchen utensils. It was the big bingo game I witnessed ever since where cards are so many and almost everyone have their cards.
The winners was announced in the last part and every batches enjoyed it a lot.
In the evening, their is a live band that make another memories.
Remembering the past make us happy and finds it fun talking about the silly things we've done. It is so good to think about the activities, the easiest and hardest subject, the most behave student, the most noisy student and everything we have during highschool days.
This is also a great time to remember our alma matter and give our support for it.
How about you my read.cash family? Have you attended an alumni homecoming? How does it feel?
All pictures are mine.
Thank you so much for reading.
Thank you so much my dear friends
for the like, comment, upvote and
sponsorship.

Don't forget to like and subscribe
for more articles.