Relax now, Panic Later !!!
Good day everyone today I want to share things that I do today for just absolutely no reason 😁. As you may know if you are living in the Philippines today and tomorrow is National Holiday because it's Maundy Thursday and Black Friday. This 2 day holiday was meant for us to think, repent and have a realization of our sins. That's why a lot people is just staying inside of their houses and suppose to stay quiet and peaceful these following days. Because of this occasion it gives me a chance to have a 4 day break or vacation from school.
Yesterday's exam was quite tough and after that exams I feel so exhausted for some reason that's why I get to write properly last night because I feel like light headed and I can't concentrate my thoughts. Last night after I published an article I am supposed to get to sleep already because I think I am done for today and I need a rest because I also done some physical works last day around our house. But guess what I didn't go to sleep and I decided to watch anime and k-dramas because it's been a while since I managed to watch anime and k-dramas for long hours.
In my original plan last week I am supposed to watch the new K-drama Business Proposal or Twenty five - Twenty one because I've been seeing those for quite a long time in my news feed. To be honest I haven't watched a lot of k-drama this year and last year because I haven't actually seen the Squid Games and the other one that is really popular before that is about school and zombies I just forgot the title of it😂.I am supposed to start to watch the Business Proposal last night but as I scrolled down I saw that I still have a K-drama that I haven't finished yet which is "The Doom in Your Service"
I saw that I managed to finished 8 episodes already before and it was quite a long time that is just sitting in my videos that's why I decided to finished it last night. I managed to watch until episode 13 because I stayed up to 5 am this morning just by watching it and after I wake up this morning with almost 3-4 hours of sleep I just do somethings around in our house and continue to watch it. I already finished watching it this afternoon I won't talk about the plot of the story because it will take so long if I narrate it myself 😅.
Back to reality after I finished watching that k-drama for some reasons I suddenly open my account for school and I saw that I have something that was due today. It's an activity that was given to us a few weeks ago but it totally slipped off my mind because I thought I already done it. This activity was to make a Pedigree chart.
I think some of you know what is Pedigree chart is but if you don't I will try to explain it. A Pedigree Chart is like a family tree but in this chart you just don't have to include the names of your family but also you have to investigate a trait or decrease that is being passes by the generation in your family. Just like the photo above is what we can say a family tree or a family chart because it shows the members of the Family . In my work I am trying to investigate who in our Family got the trait of Curly hair.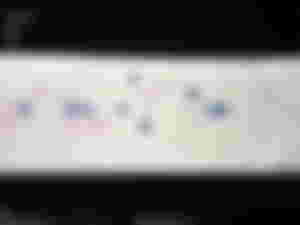 In this photo I already fill up or shade the family members that have a curly hair. Can you guess where I am in that chart 😂. Well it looks quite messy in the photo because I haven't polished the shading in that photo but unfortunately I can't show you the final results because the final results contains the name of our Family members. But I rest assured you that I managed to clean the coloring in that as well as I add an original to it. It took me almost 4-5 hours to do because I keep making mistake before because I am trying to fit it in one bond paper but I successfully managed to do it by just connecting two bond papers using tape.
Well that Pedigree chart is quite incomplete because I haven't put some of my cousins and auntie & uncle because I don't know what to do for the step families like some of my cousins and uncle.
I managed to pass it this evening but I am shocked because there is a lot more activity added in our accounts. I still have some activities that I haven't done yet that is due next week and my initial plan is to do it in these holidays but I decided to just to do it later. It's not like I have something important to do right now but I am feeling tired and exhausted to do all of this things again in again that's why I decided that I will just do it later or in the next following days.
This holiday is a perfect time to continue writing my research paper but I will just rest this holiday but I promised to myself that I will do it later. I will just think that these days where my vacation days and I will just work harder in the following weeks.
The image used in the contents of this article is captured by the author while the Lead image used is from Jeeshoots.com that is uploaded in Unsplash.
Thank you for reading this article. I know to myself that this time is the perfect time to do things that I have to do but I just don't feeling to do it yet that's why I will postponed it a little 😅. It might seems like laziness well I can't really deny about it because this in fact I am doing is procastrinating but yeah whatever 😂.
These two days was supposed to be a meant as a healing time for our body and soul but look what I am doing I am staying up all night and day watching things out. This night I want to rewatch some movies that I want and I can't sleep early today because it's April 14 and this midnight will have a sale and I am aiming to get some more Piso deals 😁.
--