I Am Still Not So Motivated To Write
August 4, 2022
I think I am battling another round of writer's block. And it's been like this for weeks. I had to force myself to write. Right now, I'm just thinking out loud... or something like that but in writing...The truth is... I'm thinking of just watching another episode of the action/horror TV series The Strain.
However, if I let my "comfort zone" get the best of me again... I don't think I will be writing for weeks again. Thus, I am forcing myself to write this one. I hope I can finish it.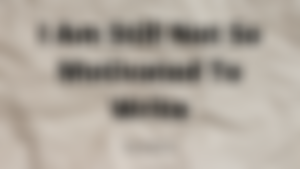 ---
Greetings again my loyal readers and friends. Yes! Sad to say, I am still not motivated to write. Nothing technical anyway. But what am I doing? Maybe just a little form of freewriting.
I mentioned in my last article that I was quite disappointed in my $5 earnings in noise-cash last July. Yeah, if I was slightly demotivated to write because of my low income here, I was greatly disappointed in my income from noise-cash... until this morning that is.
---
Read: https://read.cash/@JLoberiza/despite-my-dissapointing-earnings-i-am-still-grateful-for-jully-986b8d9e
---
My posts in Noise-cash are rarely getting more than $0.10 each for so many months now. But this morning I was surprised that at least four of my digital illustrations received at least $0.60 worth of tips each. All courtesy of @JeffChen.
So, if you are here Jeff... once again thank you.
Since I am in the mood of expressing my gratitude, I'd like to express my heartfelt gratitude to my ever-supportive sponsors.
For the readers, I would appreciate it if you take some time to visit my sponsors.
And special thanks to my biggest supporter (next to Rusty), @Pantera. Thanks for everything, my friend.
As you may have already known, I love to draw. Moreover, I love to create my original characters. Recently, I posted my original tree-dwelling alien here. After a hectic day today, I decided to redraw that alien Manga style. I have finished the outline but, I decided not to post the WIP yet.
Anyway, I'm not just drawing any random character. Most, if not all, of the characters that I create, have their stories to tell. I'm planning to publish those stories soon.
One of the stories that have been playing in my mind led me to create a Filipina character. A martial artist that is ... an FMA (or Filipino Martial Artist) to be exact. Here is the outline (with her hair colored).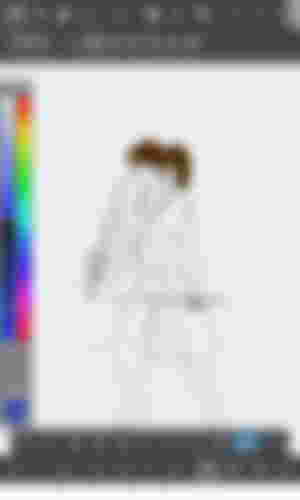 Yes, she's armed with an arnis stick and a jungle bolo. And probably she's also got a karambit knife hidden somewhere.
Hmm... I just realized that it looke more like a short-bladed katana than a bolo.
She's part of a big... no... a humongous story that has been in my mind for maybe a decade now. So huge that I don't know how to end it yet. And oh, she will not be fighting criminals... but something worse.
I don't have a name for her yet. Will you help me name her? I would appreciate it.
Anyways, it's 11 in the evening now. I have to cut this short for now.
Have a great day/ evening.