I Was Living in the Ocean of Insecurities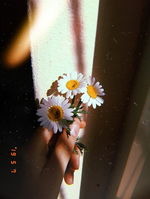 'Insecurity' , this particular word is a curse itself and enough to make a happy soul sad. This specific word most of the time tries to stop us from loving our own selves and evolve a feeling which makes us feel worse than everyone in every possible way.
We all have some insecurities which are dwelling within ourselves, hiding in your most deepest part of our mild heart. Maybe some people has less insecurities and maybe some people has more insecurities but we can't deny this real fact that we do not own any kind of insecurities .
Sometimes we start to curse ourselves for not fitting in the mold of society, we start to belittle ourselves, we start to think ourselves inferior and many more things.
Deep down, we all want to accept and love ourselves but for the fear of society, for the fear of insecurities which are holding us tightly in their grip like the iron shakles we can't love ourselves, we can't gift ourselves that thing which we want to gift. These are the things which are not allowing us to do what we want to do. These are the things which are not allowing us to speak what we want to speak. These are the things which are not allowing us to listen what we want to listen. These are the things which are not allowing us to feel what we want to feel.
No matter how many times we deny the fact that I have no insecurity about myself but we all know and can feel that we too have some insecurities which we are burying each and every moment, just to show the 'Fake Us' to the world.
In this article, I will be sharing about my most hated insecurity which I used to think too much and embarase myself but now by the mercy and grace of Almighty I had already conquered against my one and only insecurity. Without wasting or taking too much of yours, allow me to write today's topic.
As a passionate lover of Science, it was really painful and awful to choose Arts stream over Science , I do not know why I made this decision few years back though I had already the idea that I planted the seed of becoming an Astrophysicist in my heart. I was really good both in science and arts specially in science group since childhood but I gave my best in physics. I was always regretting for making this painful mistake and for this reason almost one year I did not study and give my best but even after this by the grace of Almighty somehow I managed to bring good grades and not only passed all the exams but also topped too. Then I asked myself, ' Why I'm doing this to myself? Why I'm ruining my future? After spending some months in pain and distress, I accept all the situation and started to read sincerely.
I believe everything happens for a good and proper reason. So instead of regretting, we should accept the situation and work hard. One day everything will make sense as you always wanted.
When I started to accept the situation, in an instant just before one month before my final exam I got Typhoid as a gift but that time I was badly crying for my illness and I was living in a Hostel all alone far away from my family and home, we all know that how difficult to live without our family when we need them specialy and badly. My condition started to get worst than before but my parents and little sister gave me lots of inspiration, hope and I gave my 12th final exam with Typhoid. I got 93.2 % that time though I had High expectations when I first saw my results I was really sad and did not eat for whole day then I understood that by starving myself, by crying badly I can not change my results so instead of crying and starving, regretting I should work hard more for my upcoming future.
I'm happy that I did not give up if I did not choose Arts then I could not find what I truely wants. Now I had buried my dream of becoming an Astrophysicist and willing to prepare for Administration Service. I hope I will be able to fulfill at least this dream of mine.
Now I'm painting my life with flying colors without regretting, now I can feel the growth of my invisible wings after loosing my most favorite thing, after living most of time in insecurity.
People will say that you can't achive anything, you can't do anything and if you take arts over Science and Commerce then you're already finished, you already ruined your bright future but you are the only one who knows these are not true, you can do anything at anytime. If you chose Arts then it doesn't mean that you're dumb or you can't understand anything, everyone has their own taste, own choice. We can't interfere in someone's personal choice or dream, we all have the innate right to choose what we want to choose. People are fooling you instead of listening to them try to listen to your small and mild voice which is screaming aloud every single second but you're trying your best to suppress that voice of yours. You're capable of everything, you just need to believe on yourself, on your dreams. I told all the things before and also telling now to myself.
I didn't and do not have any other insecurity except this which never failed to hunt me again and again and again. Why I do not have any other insecurity? To be honest, I do have, I do have many flaws and drawbacks but I did not and am not allowing them to bully my mind and heart but I could not do the same thing with my one and only insecurity that was why I suffered for almost three long years.
If we spend most of our time thinking about our flaws , our fears , our insecurities then we will not have enough time to nurture ourselves, to fulfill our dreams. So try to motivate yourself and lift yourself because no one will do that for you. Believe on yourself, believe on your dreams, believe on Almighty , you will achieve everything you had promised to yourself.
Stop explaining and telling people about yourself, about your dreams, about your aims because your life is yours not theirs so you have the right to live and love your life fully.
Irene's Message :—. I hope you likes this article. As I'm not good at weaving deep and heavy words and expressing my thoughts so I'm willing to get yours purdon and criticism. Thank you Soo much my readers, commentators, upvoters, Rusty, my two generous sponsors , really sorry for mentioning you late @BCH_LOVER and @cleophia . A big thank you to both of you for putting your trust on me and becoming my first sponsors.
Have a great night Stay safe__ Stay blessed
Irene(26.12.21)
Lead image :— Pixabay.Com