Bonding with Them
February 19, 2022
Saturday
Author: Infinity
The past few days I am so stressed because of my online classes our all professor in all subjects gives a unit exam for us and I'm so feel failing for the past 5days. You know that after this subject there's a next exam that you will be encounter again even it is physical exam still gives bleeding in my brain woah but as a good student I passed it out even it seem to be loosing energy, after that long day I decided to go with my friends so that we can play our sports and that is Badminton me and @Codename_Chikakiku his my friend that every weekends we play decided to play badminton because just like me he also a student of engineering courses but we have a different course and also @Zicharius.Khlyne he new here guys I'd like to introduce him here and gives a support too, he is our new recruit of chikakiku we are all friends in real life because when we go back to our senior high school days we are all together classmates btw zicharuis his a handsome man so that every gay that we meet on the way they offered him 150pesos to get .... Hmmm you know what I mean (HAHAHAH) char is a joke guys the truth is his really handsome man.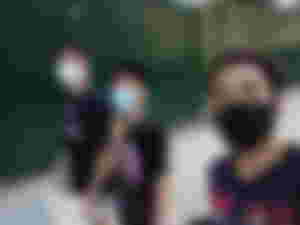 We decided to woke up as 5am in the morning so that we can prepare early as we can, after that I message to them that I'm gonna out inu house at exactly 5:30 am so we can meets on Arca south, I started to walk by my self while I'm walking I'm listening music on my phone and guess what music that I listen? Let me know in the comment section I can give you a clue is a kind of music that gives a motivation in presenting of fitness body and starts of the letter B.
After a few minutes I have reached the our meeting place in arca south but I didn't saw them so I messaged them on chat box messenger where they are and after a few minutes I saw chikakiku going to me that where I am. We saw many girls and we called that "SHAWTY" hahahaha believe me guys chikakiku is very approachable the women he has a very strength appeal so that it's basic for him to have girls or shawty.
After a few minutes we started to get warm before we play after that we start to play badminton at exactly in the middle of the part so that everyone can saw us playing like a pro because we want to notice by those shawty (HAHAHA), We are very happy and enjoyed because in this day we felt free that no one can destroy us for our playing because we passed our exam as good we'll.
After we played badminton at exactly 8am we decided to have a breakfast so that we go to 7/11 to buy foods and they treat me because I don't have money, thanks for them because I have friends like them. While eating we decided to play a mobile legends on classic game and As usual we won. After we finished our food we to go our home to rest and we decided to walk to have conversations and we talk about politics, we talk about who are the runners of coming elections for Presidential Sits. After a few minutes we have reached our homes and says to each other a nice game and good bye.
Me taking a cold water because I'm so thirsty and I decided to get sleep again because I'm so tired of it, after a few hours of sleeping I woke up at exactly 3:30 pm in the afternoon I remembered that I am gonna me up of my classmate because I have something to get from her so I each my lunch and take a bath and at exactly 4:30 I left my house again to go in our meeting place.
After I my thing from here I decided to home immediately because I have something to do and that is I am gonna cooked our food in this night, I cooked ADOBO of pork because my mom loves my cooking style in adobo.
That's all guys I hope you enjoyed reading this article.
Recent article: