Ending-up with My Ex's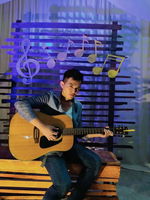 Hi, read.cash fam, since my beautiful and brilliant friend @Eurydice challenge me to make an article about my exes. I accepted her challenge. You're free to read and visit her article "My Ex's and Whys" too.
https://read.cash/@Eurydice/my-exs-and-whys-bb6b2217
---
But before anything else, I wanted you to open your mind before reading this article. Let us avoid judgments and discrimination herein this platform. Let us spread love and respect.
---
My first Ex's name is Kishler James, I met him on Facebook, he is a Chinito guy, thoughtful and caring. He is kinda sweet and he always updated me time-to-time about what he does and where he is going to. We are both in Grade 11 that time way back in 2017. Unfortunately, our relationship lasts only for a month.
Why did we break up?
I was the one who broke up with him due to pressure in school academics. I was making and finalizing my Research Study at that time and I feel exhausted. I was annoyed with him that time because he always chatted with me and ask me "Love pa ba ko nimo? Pila na lang ka percent imohang paghigugma sa akoa?" in English, "Do you still love me? How many percent is your love that remains for me?" That time, I was frustrated because the submission of the study will be on the next day then I only went to Internet Café just to make my research study because I don't own a personal computer or android phone at that time. I was too insensitive that time, and I admit that it was my mistake.
---
My second Ex's name is Paul Stephen, he is tall, white and smart, and he acts modestly than me. He speaks Tagalog since he was born in Cotabato City, but he is more amazing when he speak using English. We're classmates from Grade 10 until Grade 12. I had a crush on him since he transferred to our school way back year 2015.
Fast forward, in the year 2017 in April, and "April Fool's Day" is very famous. That time he chatted with me through Facebook messenger, and he said "May aaminin ako sayo" (I have something to tell you). Then I replied, "what is it?, then he said, "Gusto kita matagal na" (I like you since then). Then I said in a lively manner, "Happy April's Fools Day Paul". Suddenly, he said that he wasn't fooling me then we started to talk about it seriously. On the next day after his confession, at school, I feel shy and still can't believe that someone like him, will like someone like me.
We are courting each other for about 5 months and we had just kept it from our classmates. However, we already know that our classmates noticed already that there is something about us. We became official in a relationship on the 6th month of courting, and it was a month of December and I was the one who ask him personally, "Pwede ba nga kita na?" (Can you be mine?). Then he said yes, we have shared so much in common and do our school projects together, however, our relationship ended and last for 6 months.
Why did we break up?
The year 2018 of March, he get back to their hometown in Cotabato City with her two siblings and with her mom. As he stays there that month until May, I feel strange because he rarely chat with me through messenger and I feel like he is getting cold with me, and he always said that he has a poor internet connection. Then, he got back to Davao on May 14, and then we meet at a Resort and we talk about our relationship and he asked me to broke up him. I asked him why then he said that his parents disapproves of our relationship. I was hurt as we come to the point that we already exchanged social media accounts, then he said that to me directly. So I borrow his phone, then suddenly I caught him that he uses another account to court and he is having an affair. Aside from disapproval from his parents, he decided to break up with me. So I set him free.
---
My third Ex's name is Carljhon, he is a petite man, sweet, and generous. I met him on Facebook, however, our relationship lasted for a month. But within that month that we're in a relationship, I still feel his love and caring side. He always supports me when I have activities in school, and when the time that we're having a practice for cheerdance competition with my classmates he went to our venue and he brought me some snacks and medicine because at that time, I am sicked and one of the reasons I have loved him more.
Why did we break up?
The happiness he brought to me was just for a short period, he became insensitive and have less time with me. He only send me a message if he wanted to see it or if he needs something. Then, I asked myself if, is it the love that I am looking or searching for? If it is love, why do I need to feel this? I suddenly realized that I am just hurting myself and forcing someone to love me back the way that I have loved him.
---
My fourth Ex's name is Rommel, "A Teacher and Student Relationship", but he is a teacher from a different college institution. He is kind, generous, sweet and he makes too much effort in surprising me every month. I met him on Facebook year 2018 of October. However, our relationship lasted for 6 months.
Why did we break up?
There are two main reasons why we broke up. First, he is not open to his family about his sexuality, and when his younger sister found out about our relationship, there is a moment when his younger sister badmouthing me and my family and says disgusting things through phone calls and chats. I was too sensitive and I can't handle my emotion especially when someone talks unthoughtful to my family. It will be okay if his younger sister is against us, but saying things that shouldn't be is another matter.
On the other hand, I am ashamed to tell you this, I cheated on him not once, not twice, but thrice. One of the reasons why I cheated on him is that he becomes so strict on me especially in chatting with my friends that come to the point he doesn't want me to entertain those certain friends I have. There is one guy whose name is Shirley (what a lovely name for a man, kidding), this guy came into my life before Rommel, and I do still love him even I am in a relationship with Rommel that is why I can't even reject him to my life. I may be stupid or pathetic, but I made another account just to keep my friendship with Shirley. However, Rommel found out my account and he has seen all of our conversations and he becomes so angry with me because of his jealousy. I know it was my mistake and the greatest sin I did to my lover.
---
My fifth Ex's name is July, I met him on Facebook year 2019 of December, and we became official in January 2020. He's tall dark and handsome, he likes photography and the arts. I become interested in this guy because I like his name, one of the reasons is that I was born in July. He said he wants me to be the subject of his photography, yet it never happened because our relationship lasted for a month as well.
Why did we break up?
As the day passed by, he get angry easily with me and he said he was tired of my attitude. We come to point that we can't understand each other anymore, and he was the one who ended our relationship. There is one of the biggest reasons why we broke up, however, it is against our community here in read.cash. To make it simple, he just loved me for his sexual motive.
---
Yes, I proudly say that I am homosexual but it doesn't matter here, what matters most is the experience and story I wanted to tell you. My exes are the people who give memories, lessons, and meaning about what love is. We may make mistakes from our partners but the most important thing is that you learned and reflect from it.
"Once a cheater, always a cheater" we hear from so many people. I want you to know that cheating is a choice and we cheat because we have different reasons.
I wanted to say is that the statement is not always true. As long as we were able to recognize and corrected our behavior we can be better and we can do better. Still, acknowledge those people and memories because it is part of who we are today as a person.
I have someone new now, he's Vince and we're at 11 months being together and I promised him that I am going to be faithful to him for the rest of our life.
---
That is all for now, and I hope you enjoy reading my story. Thank you and have a great day.
Yours Truly,
© Lead Image from Unsplash