"Terrible headache and Facebook"
Sponsors of GarrethGrey07
Hello readcash fam. it's me again, how's everyone doing? I wish you're all doing well and everything is fine according to your will. So yesterday supposed I will be going to write an article before going to bed as I was busy the whole day but sad to say I got a terrible headache and so I decided to sleep very early.
Yesterday morning I woke up at around seven o'clock with a mild headache already. I thought it won't get worst but as the clock ticking the pain is increasing too. However I still manage to finish our laundry and bring my son outside for a short walk as he really felt bored inside our home. I also play with him outside but in just a few minutes only as my head is really painful.
The cause of my head is my period and also my eyes, as I keep on looking at my screen most of the time. So yesterday I minimise my screen time, and since whenever I am on my red days I can't drink medicine because medicine can stopped my period, all I can do is just to take some rest to take away that headache.But unfortunately since I did my laundry I didn't get a chance to take some nap yesterday afternoon and that's the reason I just sleep very early last night.
Moreover the rest of my time yesterday was spent in Facebook, and I also read some articles here. I also did a small interaction in noiseapp despite of having headache 😪. So I think I still have a productive Friday 😅.
Anyway, my Facebook page growth is doing well, I just created my new page last November 30 and right now I already have 116 followers with an excellent page health. Page health is important for monetization.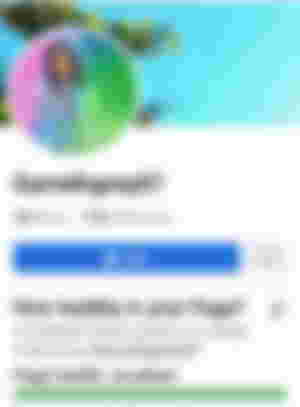 However right now, I have a poor interaction in my page as I only have one Reels there. I don't usually engage with my followers as I am focused on my page growth. But to tell you honestly I don't know what's really my plan this time 😂. At the beginning my plan is just to promote my personal account for affiliate programme, but right now I found myself being determined to make my followers grow as I wanna earn from reels ads too. Lol. I'm being addicted to Facebook again and what a waste of time as yesterday I learned something
I think starting today I will be going to give more time here in readcash and noiseapp again. Hahahhaa
So yesterday I learned that some of my group mates are already eligible to receive a Star ✨ and I am happy for them. But sad to say they still haven't received any star since no one wants to give them. Lol. Tell you I found it funny and I realized that I am just wasting my time in Facebook because I learned that if no one will gonna like to give you a Star then there's no earnings. Then even if you have already received some star it is not yet a real penny until the end of the month came as the final judgement was there.
So the final judgement is you must have atleast 1000 Stars before the end of the month, because it is their minimum withdrawal. But if the end of the month came, and your Star balance isn't yet enough, all your Stars will gonna get dissolve and you won't earn a penny. Facebook will gonna take away all your star from you, and that's the sad part for us who are currently residing in the Philippines because we are not yet eligible for Facebook Reels Play Bunos programme. But according to some sources soon Philippines will become eligible too.
So right now, we can only earn from Facebook through reels ads. If I am not mistaken you must have atleast 10k followers to get enough views so your content will become eligible for reels ads. From advertisement you can earn.
Anyways it is not my intention to discourage my fellow Filipino digital creator about Facebook. As I said we can still earn in Facebook through ads, so you can still continue growing your account there and continue uploading Vedio's because there's still an earnings in Facebook.
All the information contained herein are just basically based on my own understanding about the said topic. I am not encouraging my readers to just believe in my words as I am not an expert. I still suggest that they must do their own research to understand more about the concept. This blog is intended for entertainment purposes only.
This is all for today and thank you for reading.
All attached photos are mine or else stated otherwise.
Lead image was from Unsplash.com by Anthony Tran