"Keep and check your receipt"
Sponsors of GarrethGrey07
Do you usually check your receipt after paying your bills in the grocery store? Perhaps do you keep your receipt or do you usually check your items before or after reaching home?
Hello everyone it's me again, how's everyone doing? I hope everyone is doing well. So far I am good. As of writing this blog it's already 23:09 of November 27 and three more days to go, then we will be going to bid good bye for this month and say hello to December. I'm excited as December is my birth month ☺️.
Time quickly passed and soon 2023 is waving. Is everyone ready for 2023? What are your thoughts and expectations for 2023? Anything to look forward? Oh anyways, I have so many questions here, don't mind it. Lol.
Anyways today I will be going to share with you my thoughts about the importance of keeping and checking our receipt and items after buying our groceries or actually anything from the store, based on my own experience. Basically this is just for awareness.
So yesterday afternoon at around 4:00 o'clock my mother-in-law asked me to accompany her to the grocery store as she wanna buy some gelatin powder. She isn't yet familiar with the whole place and she haven't been there, so together with my son we went there.

When we arrive at the grocery store there's no costumers. But from time to time some people came to buy one item or two and so they quickly leave while us still buying. I decided to buy some groceries as well, since we are already there. I just picked up 5 pcs of laundry bar soap, noodles, yakult for my son and his favourite drink which is pocari sweat. I also bought one pack of chocolate (flat tops) as sometimes I love eating sweet to regain some energy.
We just combined our items and I asked mommy to keep the receipt as I will give her my payment for my grocery at home. Luckily the cashier give her the receipt that time, because sometimes that cashier won't issue a receipt. I've been buying our groceries there since we transferred here, and sometimes if I won't ask for a receipt she/he won't issue.
Then when we arrive home I immediately check the receipt and calculated my bills so I can pay mommy. While checking I noticed that the price of the chocolate is quite expensive, but I didn't realize that the price is being charged for two items.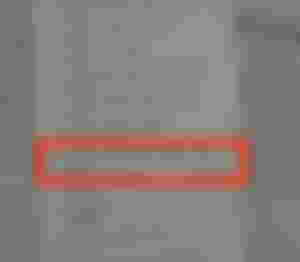 After I calculated my bills, I paid mommy and I told her how surprised I am with the inflation of the chocolate . I can't move on because it's quite expensive 🤣. Then mommy also got curious, she asked me if how many pieces is the chocolate and I told her it's just 30pcs in one pack and she was shocked too. So she asked me to check the receipt again and from there I found out that the cashier charge me for two packs of chocolate.😪
So shocking, but maybe it was just an unintentional mistake so I just grab my phone and went back to the grocery store to get my refund 😁.
Unfortunately when I arrived at the store the cashier was already out, his shift was done, but the owner entertained me. She apologized and she immediately gives me my refund.
When buying anything in the store, it is always important to check the receipt, and most specially the items so we can be sure that we have everything that we paid for, and the bill was right.
None of us is perfect, and so we should not judge. We tend to make mistakes and it is important for us to be very careful and be aware as sometimes we can't avoid it.
However we should also be vigilant because sometimes being not perfect becomes an excuse for some to fraud innocent people.
This is all for today and thank you for reading.
All the information contained herein are just basically my own thoughts and opinions based on my own experience. It's not my intention to judge a person as this blog is intended for awareness only.
All attached photos are mine or else stated otherwise.