"He is mine"
Sponsors of GarrethGrey07
What if, he/she is not your real child? What if the nurse mistakenly exchange your child to someone's child? What if there's a mistake?
What a ridiculous questions isn't it?
So what if, someone asked you those questions? What if the person who's asking you, is one of your family members? How will you gonna react, and then how will you give your response? Perhaps have you already been questioned too?
_____________________
Basically when the woman give birth to their child, usually the nurse will gonna put the baby under her stomach and sometimes let the mother saw it's face and touch it. But in my case, I didn't get a chance to see my sons face after I deliver him. The nurse don't even allow me to touch him, because that time we're still in the amidst of the pandemic and so for the safety of my son I can't touch him. All I hear inside that room was his loud cry, most specially when the nurse clean him up. He cried so hard, that even I am already losing my conscious I can still hear him crying 😅. Loud and clear 😂.
I didn't realise that before. Suppose I should ask the nurse to face my baby to me, but I didn't think that way. I'm so tired that time and I am feeling so weak, so I forgot.
After the doctor fixed my cut, and cleaned me up they immediately transfer me outside the delivery room as they still needed to clean the room for the next patient. I am so helpless that time. I can't feel anything since I had some dose of anesthesia and I even felt so sleepy. I delivered my son through normal delivery, but because I had cut, the doctor injected me some anesthesia so I won't feel any pain for the stitches.
I think after 20 minutes when they transferred me outside the delivery room, they give my son to me. They let him lay beside me, and ask me to breastfeed him. That's the time that I finally saw his face for the first time. He actually looks like his uncle.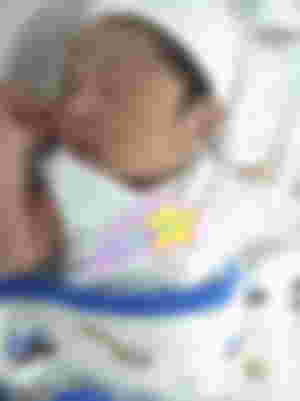 This is how Garreth Grey looks like when he was one day old. He's still have his tag, I just cover it😅.
Here, he looks like my younger brother. But since my partner's family haven't meet my family, they didn't know that he actually got his looks from his uncle.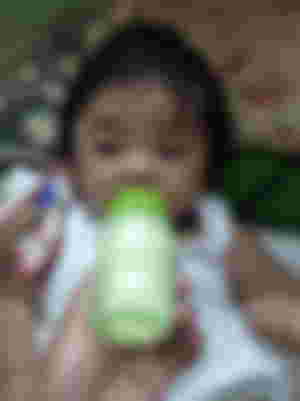 However as he grows up, his looks started to changed as well. Then some ridiculous people started to think that my son is an Oppa's (korean) son, and I'm just his nanny 🤦. Lol. Can you believe that? People thought that he isn't my son. Some of them even thought that he is a Chinese national🤦. I am not bragging here, nor being over confident with my sons looks, because honestly I also don't understand them. I don't even like that they thought that way.
Well I am happy that everyone adores my son, but I don't like that they thought that my son isn't my son and the worst is I am just his nanny. Like what?? Am I really that ugly?🤔😪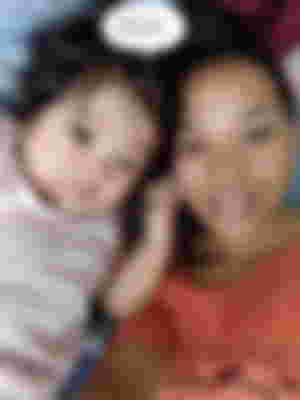 Moreover, the worst impression that I ever heard of being a mother to my own child, is that they thought that the nurse mistakenly give me the wrong baby. I was literally annoyed with that. They even ask me if I am sure that my son is my son.
Like the hell, what's wrong with this people? You know? If only, slapping people is free and legal, I have already give them a couple of slap so they would woke up and have some consideration.

Am I really that ugly??
_____________________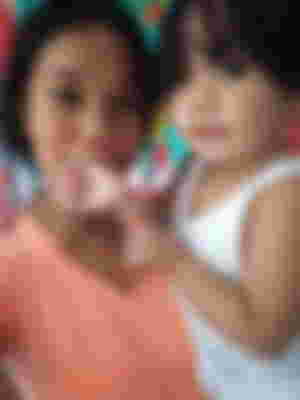 I am sure that my son is my baby. Actually he also have dimples like me, and only visible if he smiled, same as mine. We have the same nose and wide forehead 😂. Lol.
Well honestly when I give birth to him, it's only me who's inside the delivery room. Though there's another woman in the other room (cesarean room), there's no mistake had been made because the woman has no baby. I even feel sad after we talk because her baby died inside her womb, and she didn't know that. She looks so devastated that time, but she still congratulate me with a smile.
Furthermore, since we're in the amidst of the pandemic that time, there's no nursery room for the new born. So right after the mother recover her strength they immediately gives the baby to the mother. So how could they give me a wrong baby, right?
_____________________
Honestly I just can't help not to get annoyed with those questions because I am a person that has a great talent on overthinking. It's not that I am starting to have some doubts , but it's just that overthinking had already killed me, billion of times. I also don't like to think that I am raising someone's baby, and mine was missing. I hate them being ridiculous, because you know? They are being inconsiderate and insensitive. I don't know how am I going to react if that's gonna happen. I can't even imagine it, and so those people are getting into nerves 😤.
Anyway this all for today and thank you for reading..
All attached photos are mine, or else stated otherwise.