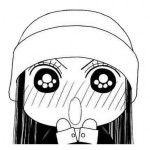 I've already heard hundreds of deaths caused by suicide. Here in our neighborhood, there are already 3 cases of suicide. An adult and two teenagers. Whenever I hear about it I can't help but ask myself 'why'? What's their reason? Since then, I always include them in my prayers. I'm not a religious person actually. I don't go to church every Sunday. But I know God. I know that there is a sin and there is forgiveness.
Every time I heard news about suicide I've always reflect on it. Because I know in myself that 'suicide' crossed my mind before. I was a struggling student during high school, and there's an incident in which my parents are called in school. It was the first time in my student history. I don't know what and how to tell my parents. I can't keep it out of my mind and I develop insomnia. I've lost my appetite too and from time to time I cried. I started to panic because I knew what would happen if ever my parents knew about it.
The time comes in where I should really tell my parents about it. They are furious and confused. My mother went to school with me, but before we left the house, my father's words gave me anxiety. He said that if ever I would be suspended or dismissed from school, it's better if I would stop attending school forever.
I may not be the best student but I love school very much. And hearing those words from my father, and knowing that he'd do everything he said, I just feel like I was lost in a black hole. To be honest, at that moment I promised myself that if ever I would stop attending school then there's no point in living anymore. I've never told anyone about it, even my best friends didn't know. I only keep this to myself and pray to God. Fortunately, the disciplinarian pitied us and just told us not to do that again. Well, we're not really at fault so we're forgiven.
Until now, I haven't told anyone about it so I decided to share it here. It may sound funny or simply petty to anyone but it isn't for me, because I know that if ever the opposite happens I would really end my life. Or maybe not too.
This is why I was curious about people taking their own life. I know that they know that suicide is the biggest mortal sin, but why still choose to do it? Because of depression. Depression is a serious illness that negatively affects how you feel, think and act. It makes you feel deep sadness, hopelessness, anxiety and despair. And it triggers suicidal thoughts.
Feeling down from time to time is a normal part of life. Sadness is also normal as well as panic and anxiety. Failures and difficulties are also part of life. It is all part of life. It is either you fight it or get drowned with it. We hold the choices in our hands. It is us who decides for our destiny, not other people or the things that makes us depressed.
Growing up was never meant to be easy. Who says it was? Who says they didn't struggle? Life isn't all about rainbows and unicorns. It doesn't work the way you like it. And for us to grow, we must experience hardship and pain. We must struggle. We must fail. We must get depressed. Because that is the only way we grow up.
Because sometimes, the things we wanted the most are the hardest to get. Priceless things are hard to get. Life isn't all about happiness. Pain makes us learn. No one lives their life with only happiness. Can you imagine life without pain and only happiness? How could we learn? And how could we understand happiness if we didn't know pain?
Family problems, insecurities, stress, academics, bullying, tragedy, grief and being pessimistic are the factors that may trigger depression. Even a tiny problem can cause you depression if you would let it eat you.
We shouldn't judge a person by how big or how small his problems are because we all have our different problems in life. You don't know what that person is going through in life. Remember that a person who laughs hard, hides the biggest problem.
But it's not about the weight of our problems, it is about how we handle these without being depressed. Who doesn't have a problem anyway? Even a princess suffers.
If you are really feeling down and don't know what to do anymore then try diverting your attention into something. Try forgetting your problems for a while. It works on me. Sometimes, if I would feel that it is slowly eating me, then I would find a place in our house where I can cry all I want without someone disturbing me. And after that I would feel a little okay.
You should also try it. Cry your heart out. Don't suppress yourself. Crying isn't a sign of weakness, it simply means that you are hurting and suffering from inside. No one can better understand ourselves more than us, so no one can also help us heal more than ourselves.
If crying wouldn't be enough, then try doing the things you really wanted to do. This time, don't think of others opinion or the other things that stop you from doing it. Just focus on yourself even for once. Trust me, if you love yourself more today than yesterday, you would realize your worth.
Like for me, this distance learning was really stressing me out big time. Deadlines and all. Plus family and financial problems. I really sometimes wanted to give up but instead I chose to continue. I would write a story, instead of my modules, and write all my frustrations out. I also sometimes stress eating or sleep whenever I want. It did really help me clear my mind and think properly the next day.
And if it wouldn't be still enough, then it is the time to seek God. You don't have to feel alone anymore, if you think that no one would understand you then start praying. You don't have to go to church just to pray. You can do it in your room. Find peace, pray to God, and surrender yourself to him. Trust me, he would listen. Cry in him and ask for forgiveness and guidance. You would notice that the weight on your shoulder lightens.
All of us experienced depression, we may have not noticed it, or not may be as severe as the others but we all had. It is just the way we handle it. Don't let it eat you. Avoid it. Your life is precious so don't take it easily.