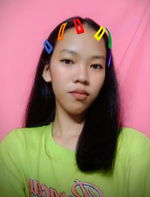 Hi everyone! First of all, thank you for giving me this oppurtunity to introduce myself to all of you and it's my pleasure to introduce my self. My name is ellajane. I am 16 years old. I am from phillipines and I'm new at this site. I love to write and read. For me reading or writing articles is retail therapy, and my stress reliever, which means reading or writing makes my day. It makes me happy.
Another thing about me I'm Filipina. I was born in 2005 on Septemner 21st. I have got black hair and brown eyes. I have one brother and sister. I live in metro manila in a big house with my family.

Lastly I am a student in the fourth year of high school at nangka high school. And i believe that the more you makes a mistake, the more you learn.

"This is me"
Date: March 9, 2022