Happy healthy eating and cooking!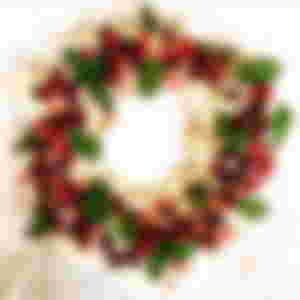 Frozen Christmas Cheesecake Wreath
250g premium mixed dried fruit (dates, craisin, fig etc)
1 ½ teaspoons cinnamon
1/3 cup orange juice
1 ½ cups crushed plain chocolate biscuits
90g butter, melted
750g PHILADELPHIA Cream Cheese softened
395g can condensed milk
½ cup caster sugar
100g baking milk chocolate, chopped
1 ½ thickened cream, whipped
100g baking milk chocolate, extra, broken into pieces
1/3 cup thickened cream, extra
Cherries, for decoration
 Mint leaves, for decoration
3x30g CUDBURY FLAKE, broken into shards, for decoration
1.      Combine the fruit with the cinnamon and juice in a microwave-safe bowl and microwave on 100% power for 1 minute. Allow the fruit to plump and cool.
2.      Combine the biscuit crumbs and butter. Grease and paper line a 25cm springform pan. Grease and line the exterior of a straight-sided glass (approx. 10 cm diam) and place it into the center of the pan. Press the crumbs into the base around the glass to form a wreath or ring. Chill until firm.
3.      BEAT the PHILLY, condensed milk and sugar with an electric mixer until smooth. Stir in the prepared fruit and chopped chocolate, then gently fold through the whipped cream. Spoon into the prepared pan, cover and freeze overnight.
4.      Combine the extra chocolate and cream in a microwave-safe bowl and microwave on 100% power for 60-90 seconds stirring until melted and smooth to make a sauce. Cool slightly.
5.      Remove the cheesecake from the pan and twist the glass to remove from the center, place it into the serving plate. Drizzle the sauce decoratively over the wreath. Return to the freezer until the sauce has hardened.
6.      Decorate with fresh cherries, mint leaves, and shards of FLAKE just prior to serving.