Oh monday!
Hello everyone ,how was your monday ma beautiful read cash family?I hope you are all doing great today.Well me ,I was a little bit tired but its okay ,thats life.
I woke up early since my husband was having a dayshift duty for this week.I woke up around 4:30in the morning.I cooked our breakfast at our dirty kitchen which I am using a dried woods,wala na kaming lpg gas mga beshy haha ,I don't where to get money for it kasi sobrang krisis kami ngayon .Yesterday I converted my bch earnings plus my hive and spent it for my son's baon at school.
You know na ,iba na ang mga studyante ngayon ,unlike on my days na okay na may piso ,minsan wala talaga but now ,kawawa naman ang anak mo pag walang baon kaya ayun , converted my bch earnings plus my hive earnings .
My son was having a class too and hindi na ako masyadong napapagod kasi may school service na siya.
We got a problem this morning pala ,my brother inlaw's piglet ay nakawala ,I was helping him ,we searching everywhere kasi sayang yung pera.
They bought it yesterday worth 5k pesos kaya super sayang kung hindi mahanap and tumulong na din .
The afternoon came ,hindi pa rin namin nahanap and dahil sa init ng panahon ay tumigil muna kami sa paghahanap.
My brother in-law posted on facebook about his lost piglet and give a reward for those who can see and catch it.
Around 4 in the afternoon one of our neighbor told that they saw a piglet pass in their house but they did'nt catched it coz they don't know whose the owner of it.
My brother in-law went to our neighbor and good thing that his classmate catched it even if they does'nt know whose the owner of it.
So ayun ,finally nahanap din haha.
When I prepared for our dinner ,I saw a video on facebook about a simple easy recipe.A crispy malunggay chicharon so I tried it since I had here the ingredients needed.But unluckily ,I was'nt able to tae some photos of it ,I was not thinking kasi to share it with you haha.I only had the screenshot of my son's video while eating it😅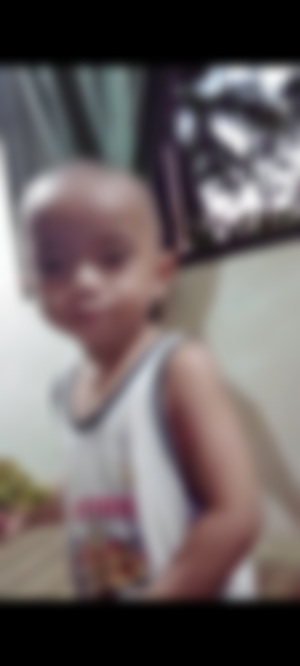 All you had to do is mixed all the ingridients then fry
My kids really like it ,they was not aware that it was a malunggay.
Anyway the ingridients are
Malunggay(chopped)

Two eggs

3spoons of cornstarch

Black pepper and salt to taste

Cooking oil