Planting Vegetables on Our Lawn
The last time I checked, I only adored nurturing ornamental plants. However, due to my busy schedule, I wasn't able to put enough time for them and recently, I just had a new achievement when I was able to grow vegetables in our lawn.
To tell you honestly, one of my biggest dreams is to have my own farm. I think it emerged when I was young and playing FarmVille. I liked the idea of growing different fruit bearing trees and turning them into various products. I love the idea of harvesting early in the morning to have something for breakfast. It's a silly idea but I want my life to be as simple as that.
Going back, I'm writing this article to show you my mini vegetable garden, if I could call it that, but please, allow me. The first ones that we planted with my mom are the eggplants and sili. Of course, we cultivated the land first. We removed the dried grass and the rocks. After a few weeks, our plants had flowers then comes next are the vegetables!
The sili came early, I was so glad even though I don't like to eat sili. My parents did enjoy them. When the eggplants came out, I was so happy because I didn't expect that they will literally grow in our yard. Some of them are big and some are small. We cooked omelette, poqui poqui, and pinakbet out of it. It is a little hard to make time in watering the plants because I have classes in the afternoon until night on weekdays. Plus, we still have other plants to manage.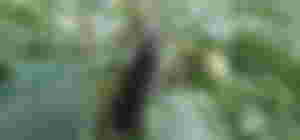 Morever, we also have stringbeans. They are now climbing on the wood which my mom fixed. Hopefully, stringbeans will come out soon. I'm excited for it and I'll promise I will share it to you once again when it happens. Before the stringbeans, we planted pechay but unexpectedly, they died maybe because of the heat of the sun, the soil, or the seeds aren't just okay anymore. We also have a tomato but it's still growing. Tomatoes will be once again costly when the rainy days come so I hope it will bear tomatoes real soon.
Realizing that I am privileged to experience this little flutter of a heart experience makes me grateful that I was born and grew up in the province. We are surrounded with farms; I continuously see the farmers grow crops – corns, rice, peanuts, onions, and vegetables. I appreciate the simplicity of life with this and it saddens me how agricultural sector in our society are being dragged down just because they aren't titled to be educated. Widespread agricultural lands are also being turned now as commercial or residential lands. I wish our government would focus on implementing better urban planning programs, preserve the lands that feeds us fresh food, and provide a spotlight for our farmers who makes it possible.
My writing is getting long now and I feel really sleepy already. I'm exhausted for this week; I can't explain why. I'll see you in my next one! Thank you for reading!