Slendy, Is That You?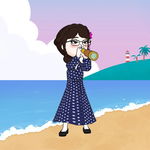 Mangoes are what we aimed to get on coming at the middle of the ricefields. There is a mango tree there surrounded by tall bushes, looking healthy feeding from the waters in the irrigation canal. It's the end of the mango season but we are just hoping to get some since that tree isn't known to people. Who knows if it still have fruits? We are just hoping for things that we aren't sure of.
When we get there, we have seen none of it. Then, we just decided to check the ricefields if some pests feast on it. Upon turning where the tall bushes end, we halted. An 8 feet tall man in a suit is standing just 3 meters away from us. He isn't turning around, that we couldn't who he was. We meant to call since he is standing in our way but as we are about to speak, he stretched his long thin hands, collided them to stretch the muscles. He faced sideways, then put his right hand on his eyes and they were taken out.
He suddenly faced our way, and his face becomes featureless. I grabbed my sister to run back to our home as fast as we could and not ever looking back.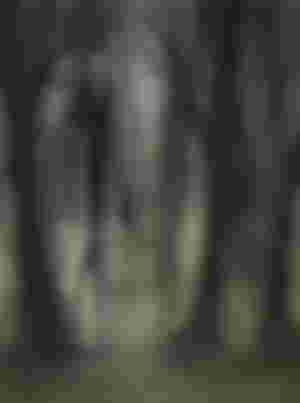 Image source: Pinterest
As we reached the house, everything gets blurry and everything is blackened. It was like I have been suddenly pulled away by an unknown force and when it stopped, I woke up.
Thank goodness, it was just a dream.
The rays of the sun coming out from the window are hurting my eyes already, so I checked the time on my phone. It was already 6:24 am. Actually, I haven't dream for so long, maybe weeks already. I'm that exhausted from thinking about my life and what to write that when I sleep, it's straight until morning with no disturbances.
This time it's different. Probably, a result of overthinking about negative things lately. I'm just not comfortable with it since my sister is pregnant right now. I don't want it to be a sign about anything. I don't want to think about negative things in relation to that dream. It will remain a dream until my sister can give birth safely.
Probably, it is also the results of reading creepy pasta stories back then. I remember that one fictional character that is similar to the one that I saw in my dreams. It is Slender Man!
However, it is still a wonder for me. How did he get into my dream if I didn't even read his story though he is a known fictional horror character? I only have read stories about Jeff, Jane, Laughing Jack, Eyeless Jack, and Ghost Stories, but never of him. Perhaps, maybe it is a sign that I should visit the platform again or write stories regarding it.
It can also be a sign that I should face my demons head on now and don't just hide from them every time. Maybe, this can also be a ghost of the past that were created from my bad experiences and hurtful events. Monsters that I created in my brain as I imagine things that I want my bullies to get scared of.
I can't write something like this in Ink Well, so probably I'll publish it here. Thanks to this kinds of dreams also that my story writing drive is fueled. It motivates me somehow to write about another unique concept.
---
Just sharing some random dreams and reflecting on it, but if you have read this far, I appreciate it. Thanks for reading! Let's see each other in Hive. Here's my profile.

Lead Images were edited from Canva

Images are mine unless specified

You can also find me at;