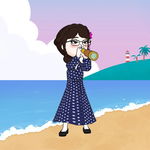 "Excuse me. Can I ask about a patient named Flores?" I asked the person at the information desk as I enter the hospital. My boyfriend got into a motorcycle accident this morning and I just received a call from his sister.

"He's still in the surgery ward, Miss. Go straight that path, turn right, and proceed to the second floor." The person pointed the path while giving me instructions.

"Got it, Sir. Thank you." I walk through that path that is instructed to me. When I turn left there's a guard post inspecting the luggage of each visitor and watchers. It's my turn to let my bag check, but the guard paused for a moment and asked, "Miss, do you have a Watcher's pass? Visiting hours have ended at 5 pm."

Right, it's already past 5 pm. Well, I don't have that. They never told me. "Excuse me, Sir. I don't have it. I'll just call them."  I got out of the line and went to the side where there is a vacant area. I texted his Uncle who is currently the watcher. Gladly, he replied immediately and told me that he's coming to hand the Watcher's Pass because it is transferable.

After a few minutes, his Uncle came. He hands over the Watcher's Pass. The guard now let me pass. I walk to the second floor and saw the door labeled "Surgery Ward". When I came in, the smell of medicines, alcohol, blood, Povidone-Iodine solutions, and a little stinky or more like rotten smell mixed up in the atmosphere inside the room. There are 10 patients inside, 5 on the left and 5 on the right, along with the busy doctors and nurses doing rounds of checkups and monitoring, also Vital Sign Monitors that have been endlessly beeping all around. This room is a bit crowded but, what could you expect in a public hospital, anyway?

I looked around to find his bed and I found it on the right side near the windows. I don't know what to feel when I saw him. I don't know if I would pity him or I would strangle him at the moment. There he is, still unconscious. His jaw and legs are broken. His stomach was stitched due to an operation that has been done because his liver was damaged. There are gauze pads dressed on his wounds on some part of his body and his head is wrapped in plaster to support his broken jaw.

He actually looks like a Mummy at his state. This guy cheated behind my back and impregnated another woman. When he knows the woman is pregnant, he demands an abortion because he isn't ready to be a father. What a scum! I'm glad that woman isn't that stupid to abide by his wishes. She came to me and told me that she doesn't know at first that he is already in a relationship. They have a huge fight this morning when she disagreed with the idea. Knowing that he couldn't convince the woman, he run away on his motorcycle and met an accident along the way. Here he is now, lying unconsciously on this hospital bed without anyone pitying him.

I sit there for a little while. I don't even know why I actually came here. I just got this feeling of wanting to see how karma hits him so fast. Just a few seconds later, there's a patient near the door whose monitor is beeping rapidly. The watcher runs to get a doctor but came back with a nurse instead. The nurse tried and tried to resuscitate the patient but the monitor beeps constantly and the vital signs went to zeros.

"Oh. That's the one who hits this patient's motorcycle. Ah, he's dead already. I'm about to interview the Watcher. I guess later, then." I haven't noticed the two policemen that are standing beside me already. So, that's the one who hits him, huh? The other one is slightly shaking his head while watching the patient who died just now. "That's what Overspeeding Drivers commonly ends up with," he says.

"Why are they driving so fast, anyway?" I speak my mind out loud. I haven't controlled my curiosity.

"It was said that the guy escaped from paying his bills in a Bar on his motorcycle and drove fastly when he was drunk. Then, he met this patient along the way and crushed his motorcycle. Both of them are overspeeding so the impact to both of them is severe." The police who are holding some documents explained it to me.

"But about on this patient's side, we haven't got any details why he is overspeeding. Are you related to this patient, Miss? Do you have any idea?" The other police start questioning me.

"He is my boyfriend but he cheated on me behind my back. The woman whom he impregnates came to me this morning and told me everything. She said they have a huge fight when she disagreed to abort the child, then he run away on his motorcycle." I told them what I know.

"That matches our data. Thank you for cooperating." The police who is holding some documents replied while scribbling the information he took from me on his notes.

"You have been cheated but you still visit him here? Hmmm, interesting but why is there a need to?" The other police ask me.

"Well, I just want to see how did Karma taken revenge for me." The two of them just giggled and tried to keep it down, in consideration for the people whose patient just died.

"That's wicked." They both told me in a whisper at the same time. I just smiled at them.

I guess that's how Karma works. What have you done to others will be done back at you. No matter how fast or how slow the time passes by, it will come. It will certainly come to collect your debts. He threatened the life of an innocent infant, it bounced back and threatened his life. The guy did nasty things and hits him, so it bounced back and he's unlucky to survive the damage.
---
This is based on a real event but not the whole of it. And yes, that's my ex-boyfriend who cheated on me. I broke up with him when he woke up. He survived the accident but currently can't drive a motorcycle anymore. He came back to the woman whom he impregnated and they lived together. Maybe, he had realized how precious life is. I went back to my hometown after a few months and have never been in touch with him, his family, or his friends ever since now.
---
Here we go again for another storytime. I hope you have learned a lesson from this story. Don't ever drive overspeeding, okay? By the way, thanks for taking your time to read this article until the end.