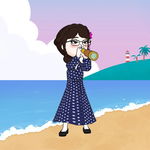 As the typhoon left the Philippine Area of Responsibility, it also left a lot of casualties. There are a lot of landslides and floods that happened in some areas, especially in the Northern Region in the Philippines. As of today, the death toll even rises to 13 people and there are still 9 people that are currently missing.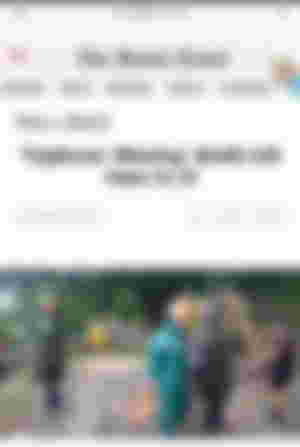 ---
I felt worried about my family in the province since our hometown is in the countryside. Though landslides never happened at our place, the current of the river which we often cross when we are going to other places or going home gets stronger when it rains heavily. I just contacted them this morning since they don't have electricity from Monday until last night. Their phones have died out, and their flashlights too. Gladly, it came back last night and they were able to charge their phones and flashlights.
The skies are still gloomy over there and there are rainfalls for a short while from time to time. It was a good thing that they were prepared when the storm comes. They have already bought what they needed at home, so they wouldn't cross the river to go to the store when they need to buy something. It's just that their rice supply will run out in a day or two if the sun wouldn't still come out. Though we have rice grains to dry, it wouldn't be of help at this moment. I advised them to buy at the Rice Miller's store. Just an amount that can supply them for a week.
My Mom has a lot of vegetables and fruits planted in her yard at home. She also raised native chickens. I wouldn't be worrying about their viands anymore, they already have alternatives. They often buy fish alongside a highway where vendors usually pass by, so I'm a bit worried if they stubbornly walk into that stormy weather just to wait for the fish seller and buy.
I asked about our crops. An area of the newly planted ricefield was drowned in flood. It looked like cultivating ponds for fisheries of the Department of Agriculture at our municipality right now. I even joked at my brother that he should just throw some tilapia or milkfishes in the deeps of pond water and we will just cultivate fish instead of rice.
I'll just laugh at this another headache that has been given to me by the storm. Who else would spend for the replanting? Hello, no other human being there other than me. I have already spent my 15,000 pesos from paying the mortgage of that area, another 5,000 pesos for other labors and seeds. Now I have to spend my BCH again. I can never hold my balances.
As skies cry, my BCH wallet cried along with the storm. What else can I do, though? I can't control the weather. If I could just have powers in me, I'll distribute the rain evenly to those who need it around the world. I just got an idea, maybe I should join the prompt, "If I were...", in another article. I would set the title to, "If I were the rain", and talk about all my ramblings and rumblings.
It's just that, those seeds that have been wasted could have grown more and will be harvested soon. Now that we have to replant, aside from my expenses getting doubled, we are also late from the harvest season. I'm not even sure if we can employ harvesters if we are late to harvest this year. My family will just harvest it on their own if we can't find harvesters. That's got to be a lot of work to do.
Anyway, the damage has been done. The best that we can do now is to repair the damages no matter how much it will cost. No matter how noisy my wallet cries, all I can do to make it hush is strive harder here every day to replenish its balances. Right now, I'm just praying that there would be no added casualties from the reports of the rescuers.
---
I'm a bit depressed right now about what happened. I'm laughing off my dismay and frustrations by watching funny videos on social media and looking at the memes. Honestly, I'm about to cry while writing this. Sorry, people. I don't want to spread depressing vibes here, but I just can't help it. It's all in my head since this morning. I have to let it out by writing this depressing blog.
So before I break down here, I have to end this first. Thank you for being with me here up to this point of this blog. I appreciate your sympathies and deepest condolences to my drowned rice crops and crying wallet.
Here's your broke Farm Girl, @Ayane-chan
---