Incidence of Murree (Pak city)...
A very sad incident happened a few days ago. An incident has taken place in Pakistan. The incident took place in the Pakistan's city Murree. Murree is a city where people go for visit with their families in summer and winter both weather. Therefore families visit to Murree to enjoy together. But can you imagine guys, twenty two people are said to have died inside the vehicle. Yes twenty two people died inside the vehicle due to heavy snow falling. These people were asleep and did not open their eyes. Their eyes were closed forever.
People in vehicle thought that after sometime the snow falling stopped and they continue their journey. So they stopped their vehicles and waiting for snow falling to stop. But after sometime of their waiting, they all died in their vehicles. Actually the snowfall trapped their vehicles and they can't even move their cars. Almost everyone becomes upset to this tragic death of tourists. When I watch the news, I also become upset. They all went to enjoy the weather , but death waits all of them. Most of the tourist died due to hyperthermia(high body temperature). They all stuck in their vehicles overnight and during a heavy snowstorm as temperature plummeted. Also they close their windows of the car. Therefore the oxygen didn't access in their car and they open the heater of the cars also. so their temperature of body increased and they become died. At that time, the Temperature becomes minus 8 degree centigrade.
When other tourist heard about this incident, they all shifted to hotels, because at that time it's impossible to get out from their rooms. But can you imagine guys, what's the behaviour of hotel's managers?
They was charging people Rs 50,000(283$) for one night stay. That's a lot of money. Before this incident, the hotels manager charge 5000 for one night stay but after this they charge a lot of money. And people were forced to stay overnight and sell their bikes to save their lives. How ashamed hotel's managers are? They should have helped the people for free but they take extra money to all toursit to stay their hotels. Also the drivers were charging Rs. 10000(56.61$) for just 25km route. At that time , the humanity gone. Seriously I'm ashamed of such people, who take advantages of people's compulsions.
Military troops just help those people who are stuck in their vehicles. So hats off to army people. Because they just help people not advantage of people compulsions.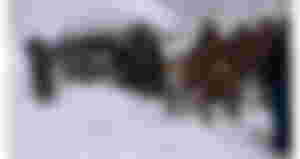 I think it's enough for today. Hope so, you are fine and shine and spend your day with happiness. But please pray for those people who are died in this incident. May their soul rest in peace. Ameen. And if you going through this situation, then please open the window of your car, so that the air passes and temperature becomes stable.
Also check the articles of my beautiful sponsors. You must gain and learn some knowledge from their articles. Thank you so much my dear readers and sponsors. You encourage me to stay here and write articles.
Stay happy, stay safe and stay healthy. Have a blessed day. :)
Peace ...