Don't compare your child with others!!
I'm not looking forward to watching more dramas. But a friend of mine asked me to watch a drama of Pakistan (my country). I used to think that I would watch today, I would watch tomorrow but then something happened that I couldn't watch it. Then finally I watch in the days when I didn't write articles. After watching that drama, I didn't realize at all when I got into the reality of this drama. I can't share the story of whole drama but I will share what I have understood from this drama.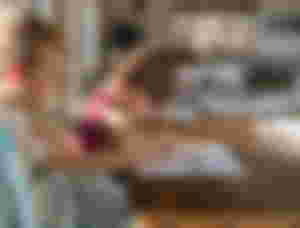 You know guys, A mother can spoil her children or train them well, it's her own choice. But there will be no mother who does not think well of her children because obviously for them their children are everything. But sometimes parents treat their children in such a way that they in advertent instill hatred for others in their children. Why does this happen? Lets talk. About it.
Do not degrade your children in front of others:
Not every child has the same level of mentality. If one child is taking positions in the class and the other child is taking average marks, please never compare these two children. Appreciate the child who has got average marks so that he can work harder. But if you keep mentioning the position holder in front of him again and again, then this child will start to develop hatred. He will fall victim to the complex.
If a child training is based on hearing that he is incompetent. Then hatred will begin to grow in the heart of that child against the other child. He will try to do something that will hurt others. Or he may do something that will make him depressed and hurt himself.
You are loser.
Why don't you learn something from him?
Why don't you come first?
Do you always bring an average marks, why?
Look at him, he doesn't even study but he takes position and you don't come third even after study all night. Why??
Why He doesn't get his clothes dirty but you get your clothes dirty ???
Listen, you have to be worthy like him, you will become wise like him.
When a mother starts saying this to her child, understand that your child is going towards depression. Listening to your words has created hatred, jealous in such child. And then such a child will find a way to humiliate this child in front of people.
Closing thoughts:
The end of the drama I watch was one of them got jealous and tried to kill the other child.
The importance of each child is different. If a child's mind level is a little feeble, appreciate his numbers instead of degrade him. Tell your kids it's value. Tell your child that no matter how good you are, you don't have to be like everyone else. You are your strength. You are you, don't be like to anyone.
Never compare your child in front of others. I said never
It's all about for today guys. I hope you like it. Thank you so much for your precious time guys. I hope you spend your day with full of happiness and prosperity. Don't forget to help others because this small act makes your day very peaceful. Ahhh, I miss the presence of Rusty. Please come back dude. Thank you so much my dear readers and sponsors.
Stay safe, stay happy and stay healthy. Have a blessed day guys.
Peace ....