Hey hey, dearest people of Read.cash, how have you been? I hope very well. I wanted to post earlier but I've been having internet and power problems. Never mind, I was finally able to post! It fills me with joy that you are reading my article haha Remember to comment if you liked knowing a little more about Araya.
As I told you yesterday, there are two ways to get to Araya by sea, but you can also arrive by land, but it takes much longer, besides the road is not well built and at this time it must be quite dangerous to travel by road to Araya, it would be best to go by sea.
Yesterday I told you how it was to go through the "tapaitos", what I didn't tell you is that when you go inside the "tapaito" you feel like you are going to sink haha, because it moves a lot from one side to the other, you can get dizzy easily, it is like a dangerous attraction, where you can be left in the middle of the sea if the boat is damaged. What a danger!
The other way is with La Palita, it takes longer, you usually go standing up, but you have a great view.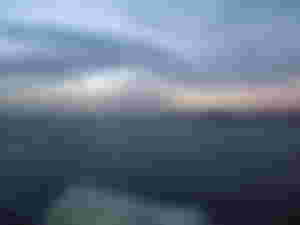 I remember once I went with some friends, I was already in college. We were going in tapaitos, but at the last minute we decided to leave in La Palita, because there were a lot of people to go to Manicuare, and we were going to arrive very late to catch a transport to Araya, besides we would have to wait in line again arriving to Manicuare.
If my memory serves me correctly, we traveled for Carnavales. The lines to get a ride to Araya were very long, we were going to spend hours there. The carnivals there are very good, that's why there were long lines to travel... Well, at that time they were very good, I don't know how the carnivals are now.
At that time I was studying at the university in Puerto la Cruz and I convinced my friends to travel to Cumaná, they had never been there. So I managed to convince them to spend a few days there and then travel to Araya, there is no way to go directly from Puerto la Cruz to Araya.
It would be nice, so I could visit my family in Araya, without having to travel to Cumana.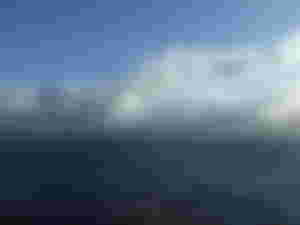 We stayed at my parents' house, they always welcome us with open doors and lots of love. The next day, very early in the morning we went to the passenger terminal, where we made a long line to go on the tapaitos, after many hours of waiting and that the line had not advanced much, we went to make the line to go on La Palita, which was already arriving at the dock of Cumana. The ticket was much more expensive and La Palita took a long time to leave for Araya.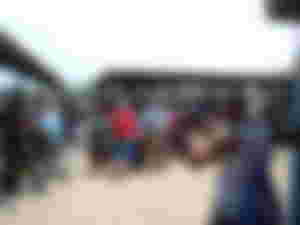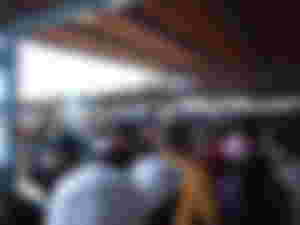 I don't know why it took so long, but we arrived almost in the evening in Araya, without having eaten, without drinking water, but apparently we didn't care much hahaha We had arrived at the best time, the carnival caravan was passing by the beach. So we stayed there watching the parades for hours. Unfortunately I didn't take pictures.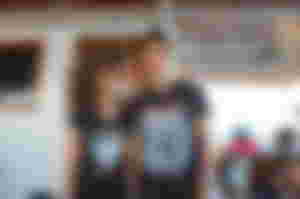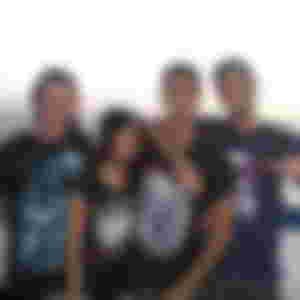 At the end of the carnivals we started walking along the beach and got to the castle. Near the castle there were some of my brother's friends camping, so we stayed with them for a long time. We went to the beach to swim, despite the cold, it was the first time I went swimming at night on the beach, it was very cold and the beach was colder than usual. The water on the beach is always cold, but at night it is even colder.
When we finished bathing and sharing with my brother's friends, we walked to my grandmother's house. There were my parents, aunts and uncles and some cousins who were also going to stay. Thank goodness there were enough beds for everyone.
After bathing to get rid of the salt and dressing comfortably, we went to dinner with my family. After dinner we watched a movie on my grandmother's old black and white TV. I don't remember what movie it was, then we went to sleep to continue doing adventures the next day with more energy.
The next day we got up very early and had coffee, no breakfast at home, we went for a walk along the beach and had breakfast at an empanada stand. Delicious and hot empanadas made with love.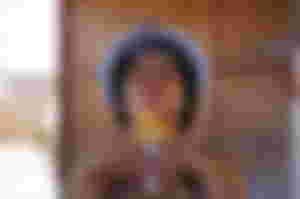 After breakfast we went for a walk on the beach, where we climbed up and enjoyed a nice view from the top of the castle.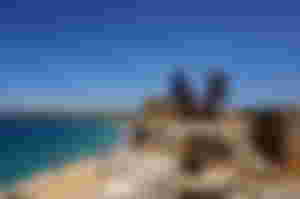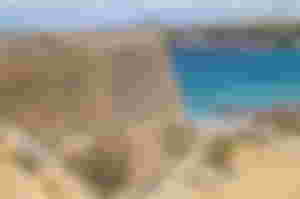 We stayed talking with my brother's friends and then we went for a swim at the beach. We stayed until sunset on the beach, it was beautiful to share together and watch the sunset. Then we went to remove the salt from the beach in some baths that are near the beach.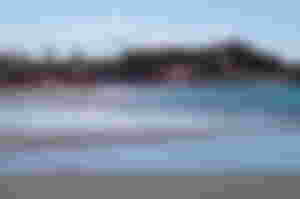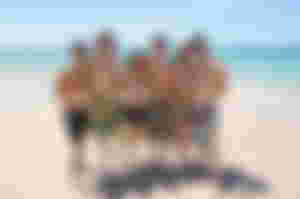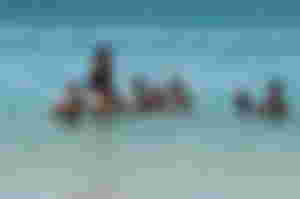 On the way to my grandmother's house we felt like eating hamburgers, so we stayed there enjoying that delicious dinner. After dinner we went to my grandmother's house to rest.
The last day, we woke up early, but we stayed in the house talking, we had some delicious arepas with coffee for breakfast. Then we went with my grandmother to buy fish. We had fish soup for lunch, rested for a while, we were very full. At 3 or 4 o'clock in the afternoon we went to the beach, to walk along it for the last time.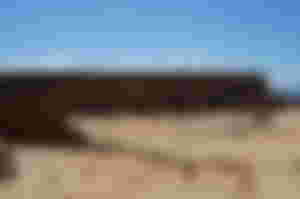 We stayed admiring the beach until La Palita arrived, which was going to take us back to Cumaná.
This has been the second part of Sand, Water and Salt. I hope you liked my article and enjoyed these beautiful photos.
You can read the following articles about Araya by my father:
Thank you for making it to the end of my article and for all the support you have given me. And I really apologize for posting it so late, I wanted to post it earlier but I couldn't.
Remember you can follow my wonderful sponsors, read their posts and support them with nice comments. ❤️
See you in the next article! ❤️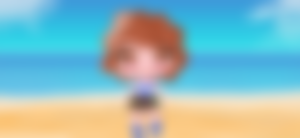 All content is original
Information obtained from the web is indicated.
Photos were taken by me or my father, I have permission to use them.
The drawing was made by me. I made the lineart in Adobe Illustrator and then I added the colors in Adobe PhotoShop.
Greetings from Venezuela❤️😊