Different Sunday
Today is Labor Day, it is a beautiful and warm Sunday, it is also a day off, but we have to work, so we went to work at the beach haha It is a little crazy, but it is the truth, I did not go swimming at the beach, I just went to work, although it was quite relaxing.
We have started a project on behalf of the university where the group that Luis is with is going to work in a community on the beach. In the university there is a subject called Community Art Project, we see this subject every semester, that is to say there are 8 subjects of this type that we have to see, in these subjects we have to work with different communities teaching them art, but it is not as easy as it seems.
In this new project that Luis and his classmates have, is to try to make the community that lives near the beach a little more aware of what is happening around them with respect to the environment, they also want the community to keep the beaches clean and the garbage or waste that is found on the beach can be used for artistic material, that is to say to make works of art, instruments, etc. with what is found on the beach, from shells, stones, plastic bags, plastic bottles, etc., etc., that everything that is found on the beach can be used for art.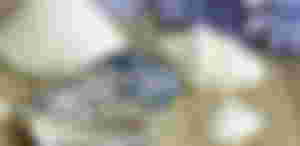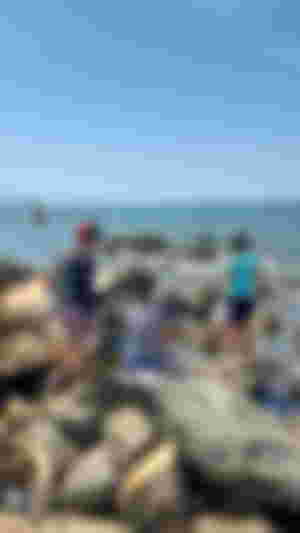 With respect to this subject called Community Art Project, all the ideas must be linked with respect to the study of each person, if we are in music then we must teach music to the community, if they are of plastic arts they can make sculptures or drawings, those of theater teach acting, etc, everything that is done has to do with art, Luis' group has decided to link art with recycling and keep the beaches clean, so today has been the first step of a great project, this is the first meeting and they have talked about what will be done.
What we want to do is to clean the beaches together with the community and with the things that are found we will make artistic materials, from creating instruments to sculptures, as I said before, we also try to make people reflect and stop throwing waste on the beaches, because they damage the environment and damage the beaches where they are bathing, it's really crazy.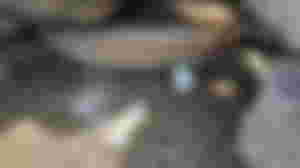 There is a part of the water of the beach that is more polluted than the other part and even so, people use to bathe there a lot, you can see it in the following photo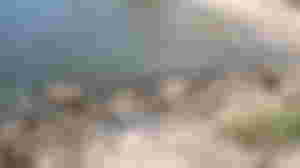 ---
---
Commercial break
---
---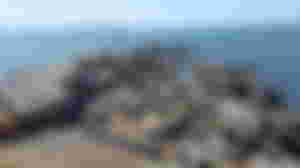 This first meeting we saw how beautiful the beach is, the spaces to work near the beach or in squares in the community where we go to work, but we also saw that the beach is quite neglected because it is with waste, bags, caps, plastic containers and people continue to bathe despite all this and continue to throw waste.
We also walked around the community to see the places where we can work more comfortably, getting to know these new spaces and find out if they are profitable or not.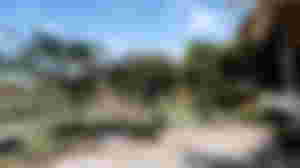 These photos are inside the community, these spaces are private but are common places in the community, we hope that not only people from the community will join, but anyone else who visits the beach.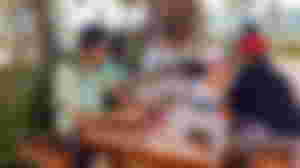 This is the project group, there are 12 people, 4 from music, 4 from plastic arts, 2 from theater and 2 people from dance, but not everyone could attend this first meeting, there were only 3 from music and 2 from plastic arts, I went as an assistant but this is not my project, I will only help in the planning since I am from education.
---
The people who study with us and live in that community are the ones who are going to be in charge of talking to the other people in the community through a small meeting and by WhatsApp, but the whole group of Luis will do surveys through WhatsApp to know which people are going to want to participate in this new project and in which area they want to work, if people want to work in music, plastic arts, theater or dance, so that the next project meeting the people are already organized with what they want to do and go directly to the garbage collection on the beach.
Let's just hope that this project goes very well and that the whole community of more than 600 families participates. I also hope that everyone who attends complies with the biosecurity norms because we are still in a pandemic.
Something very important about this project is that we are not doing it for money, it is a subject of the university, but this project can continue to work with other students of the university once we have graduated, that is, this project would not end unless the people of the community no longer want to participate, but I hope this does not happen, because we are not only cleaning the beaches, we are making art with what we find and I think this is important.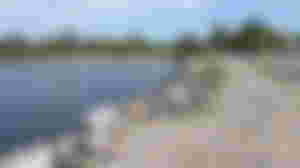 I think it is a good project and if they give me the opportunity I will continue working with this project as much as I can, because it is quite interesting and important, because we take care of the environment and we create art.
My next article will talk about what kind of art can be created with recycled material, I hope you like it.
See you in the next article
All content is original
Greetings from Venezuela
Sunday, May 1st