Feedback Matters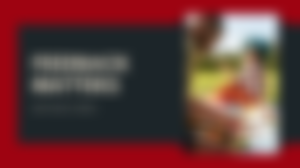 I admit, there are times that I am afraid of hearing feedbacks from other people because I can't take to be disappointed if ever that my actions or works are unsuccessful based on other's perspective.
As much as we want to work alone and live a life without allowing intervention from other people, we should know as well that we can't live with just our own. We are living in a society with different kinds of people and that we must also know that we need others especially on the learning process. We can't escape the fact that we need everyone especially their words.
When I was in High School and my teacher required as to do some projects, I am always doubting my own work because I am afraid of other people's criticism. Seeing my classmate's projects, my self-esteem started to lower and as much as possible I wanted to just keep it behind without being exposed to other people. I am afraid to hear negative feedbacks from others and I know that's not right. Sometimes, I chose to hear positive feedbacks only while refusing to accept negativities. But, as time passes by, my mindset eventually changed. I realized that feedback matters no matter how positive or negative it is because that will help us to learn effectively.
Aside from that, when doing something it's very essential for us to receive feedbacks.
Even before, writing is one of my favorite hobbies. I love to write poems, short stories and anything that will be considered as fictional as I really like to imagine things and put it into writings. I have compilations of my works in my old phone and it contained all of my unshared experiences, feelings, and thoughts about something.
Those were never been shared to anyone and it's just me who knows all the contents there. To tell you honestly, I never shared and posted those anywhere because I am afraid that someone will pointed out my mistakes especially in terms of grammar (which I am very guilty since I am not yet a professional writer), and in terms of the underlying meaning of my works which could be boring at all for my some readers.
But, hiding it all without accepting feedbacks is never enough in improving my writing skills. In terms of academic aspect, yes I am accepting feedback since it was required but, in terms of recreatory aspect, I chose to disallow feedbacks as I am afraid of disappointment.
Going back, not accepting feedbacks before made me to progress very slow. There are things that I continuously perform even though those are actually wrong because in the first place I never knew that those are not right. But, when someone pointed it out, I realized that I really need feedbacks no matter what. I will never learn if I close doors in my life. I need someone who will correct my mistakes whenever I did something bad for me to improve and never commit the same mistakes again.
That's why, I am very thankful for read.cash and noise.cash because these two platforms allow me to share everything in terms of writing/blogging without being demotivated at all.
I appreciate those people who never get tired of commenting and giving feedbacks on my article and it really means a lot to me because that's where I gain the confidence to continue writing. Aside from that, feedbacks allow us to evaluate our own works if it's good or not depending other people's opinions about it.
Feedback matters a lot most of the time. This is where we gain the knowledge to do something and this is one of the reasons why we prevent ourselves to do something negative.
Without feedbacks, maybe we are still committing mistakes because we never knew that those are actually wrong. Maybe, we can't achieve our desires and dreams in life because we refuse to get educated by someone whose knowledgeable than us. That shouldn't be the case all the time. We need feedbacks but, we should also think of not exceeding beyond the limits wherein we are already being dictated by someone and we can't already decide on our own. What I mean is, we need feedbacks that will serve as a guide and not totally a remote that will control us like a robot.
Never be afraid to accept feedbacks or criticisms from someone. Make them as a guide to move forward to the right path and make them as a motivation to succeed in every craft we choose to pursue.
---
Author's Note:
Again, this article is intended to motivate those who are afraid to receive feedbacks from others and chose to keep their works in a nutshell. Whether we like it or not, we need feedbacks. We are supposed to be active learners not a passive one, so we have to accept the fact that feedbacks are really necessary for effective learning.
Maybe, you found some errors in this article too and I appreciate as well if you will point it out in the comment section. Promise, I will never be mad at you if you do that.
I want to express my gratitude for those who are consistently supporting me everytime I'm publishing my works. To all of my old and new readers, thank you very much for always leaning your time in reading my articles. And to my sponsors, I am so grateful for having you all, I hope you are all doing fine and happy.
May God bless you always! 😇❤️
Advance Merry Christmas! 🎄🎅