Experience during the typhoon Odette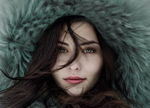 What's up guys just went to market and try to find a good viands there. As usual prices are the same it's high. I've rather find a vegetables cause it is slightly affordable than any other goods. I'm still thankful cause I despite of financial problems we still have food to eat.
I just want to share about my experience about the typhoon Odette. Since i don't have any entry about what my life before especially when devastating typhoon hitted us. It was December I think I couldn't remember the exact date. My mother just told me that we should flee our area cause it was prone to any disturbances. There are alot of huge trees in our pheriperal area. So, we are encouraged also by Barangay tanod to displaced the area.
So, my family didn't hesitate they immediately displaced the area at 2:00 pm in the after. That time the wind was strong already and that we can conclude that the storm was really a strong one. The eye of the storm will land within just a couple of hours so we secured our temporary abode to stay. We went to my mother's work place. It was the owner told us that we will went there. Good thing that the owner was good. He is generous and have compassion to us. By the he owned a restaurant.
We stayed there and try also to work for an exchange of our stay. We clean the area and try to organized somethings there. We have 10 people who displaced out area and it includes our cousins. We help each other. My cousins was told to cut those branches of trees near the area so I won't less the impact from the wind. They cut the beaches of mango which almost seized the roof of the restaurant.
After that they clear the canals so the flow of water will be smooth. Everything was being cleaned and clear including those in outside. There's no harm or any branches of trees hit the places incase the eye of storm will hit. After an hours cleaning the area. We feel that the storm is getting strong. That even though we are far away from the trees we could here them cracking and being cutted. That was really a heavy rainful and wind. At 7:00 pm the eye already there.
I was very shocked that time cause for the first time of my life I've encountered such a very strong wind like the roof were almost destroyed. To tell the roof was made of metal and it can't be destroy immediately unless when it is rusted. That was so terrible. We couldn't take a sleep cause we are bothering what if the roof will give and everything will be destroyed. We stay focused and awaked. My cousins don't have anything to worry cause they just watched a movie amidst the storm.
When the clock point the 8:00 pm the storm was getting worst like the wind produced a sounds like it's whispering. The surroundings are so noisy and everything you hear is just a wind and things that has been slapped with the wind. Good thing that the storm gradually decreasing it's momentum after two hours of visiting the region of Visayas. We are very thankful since we are still safe after all. To make the story short we just went home immediately around 6:00 am.
We immediately leave the area and give thanks to the owner of the restaurant. He just said. Welcome, it's our pleasure to help you. We just went home and we are very shocked to what we have seen. Like the whole are are so messy. Things are so unfortunate. Trees are cutted. Some houses didn't have anything left above all of the roof are being destroyed. Some of the livestocks are died. The owner try to find immediately a way to have benefits of those livestock. They make that as there viands since they they don't received some help from the government. This is all I can say. Thanks for reading reading!