He couldn't summoned courage and Barca Femani
Hey 👋 how was your whole day today? How was your yesterday? Good? Bad? Well be very thankful. Though my yesterday wasn't bad till evening when the super eagles and the black stars started playing yesterday World Cup qualifier.

Nigeria didn't lose because of the coach tactics, No! It's never the coach fault. The team were too confident that they can defeat the black stars any how they prefer maybe (5-0) and that's what make them lost the way to World Cup. The super eagles players played absolutely well as they dominated both half of the match but there's one missing king that shouldn't be on the board ( pitch ). The one Who couldn't summoned courage for more than 90 minutes.
You know who I'm talking about? Well if you watched the match it will be easy for you. I can't imagine how courage a professional player ( Keeper ) couldn't have courage for 90 minutes plus. He's always afraid whenever the ball enter into the box 18, even when his team mate passed the ball to him he couldn't pass the ball back. Like he's not a professional. I'm very mad at him because even the goal he considered if I were the goalie I won't consider that goal because it's very cheap shot from Thomas Partey.

Yesterday I was hurt 😞 very! Very!! Hurt because I couldn't imagine there will be World Cup without the finest kit, not only that but to be honest I thought I wouldn't be pained as mush as I'm pained but I almost cry. I didn't believe myself. Yesterday my blood was boiling very high at the same time I'm feeling disappointed and very pained. It's a big shame that the giant of Africans won't be able to present their country itself and as well as the continent.

Osimenh, Aina, the number 10, 18, and the central backs really played great game but unfortunately they were unlucky. Osimhen ran almost all minutes and tried his best to control and put more and more pressure on the black stars, he also had a goal but it's offside. Omo! It's a very big shame that will all quality Nigerians players and their performance in their respective clubs we couldn't qualify to the world best tournaments.
If I had seen that our goal keeper's Twitter handle I'd have told him that I did not worth being a man, how could he fear for more than 90 minutes, how can a professional goal keeper not have foot work at all? And the last question I'm going to ask him is that did he not eat before coming to field? Because miracle happens in Nigeria.
As he was shivering and shaking one the ball gets into his box 18.

As Barcelona femani hit Real Madrid female back-to-back in El-Classico today at Camp Nou with 5-2 and aggregate of (8-3) at the quarter final of champions league and now we're ( Barcelona Femani ) heading to the semifinals of the tournament and I think it's going to be back-to-back winning of the champions league for Us ( Barcelona Femani ) as they've not lost any game of their match in last 36-38 games.

In the last 17 days Real Madrid lost the El-Classico four consecutive games to both Barcelona male and Female. Barcelona Femani have won every game they've ever played against the Galanticos.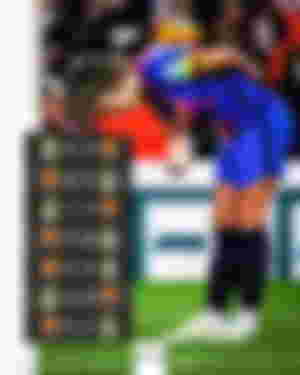 Barcelona Femani also created the world best record in the history of women's football match with the highest attendance of 91,553 fans at camp Nou today.
A Zambian Doctor who is the CAF medical officer. Who died due to the actions of the angry fans of Nigeria during the game versus Ghana last night. So sad 😞
All images including lead image are gotten from unsplash.

Thanks for reading. 💙❤️🤝
Big thanks to all my sponsors and supporters.