With my younger sisters
Hello everyone, have a nice day to all pep out there. Today is Saturday and this is the first weekend of the month coz today is the 2nd day of July.
Yesterday, I go home from the town where I work coz I feel bored in my boarding house that's why I decided to go home to have some fun a little. What I did is I asked three sisters to go out with me on a road trip.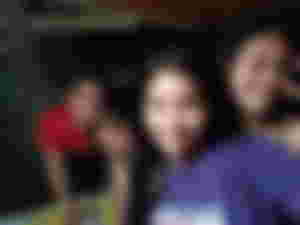 This is the moment right after we finish eating the street food Fishball, while driving home with them our youngest sister saw a fishball vendor so I decided to stop and buy and this picture was taken after eating.
I'm the only guy among the siblings and the three girls in the picture were my younger sisters. Were like very close in that picture but the truth is we are also prone to quarrelling most especially the two girls next to me kept on arguing even in little things but the good thing is they are also easy to forgive each other.
Despite of that, bonds sometimes unite us despite of our different personality. I like to bring them to the places I love coz that the only way sometimes to get along with them.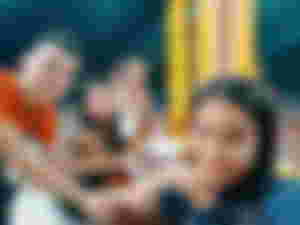 After we stop to the Fishball vendor area I continue driving to go back home but in our way another vendor they saw and that is the ballot vendor, and again I don't have another choice but to buy coz they love also eating ballot tsaka minsan lang naman ako nakakauwe sa bahay, I treat them a ballot I buy four pieces to have one each of us and after, to have a comfortable area I order a small cup of ice cream to the bakery just to sit comfortably in their area.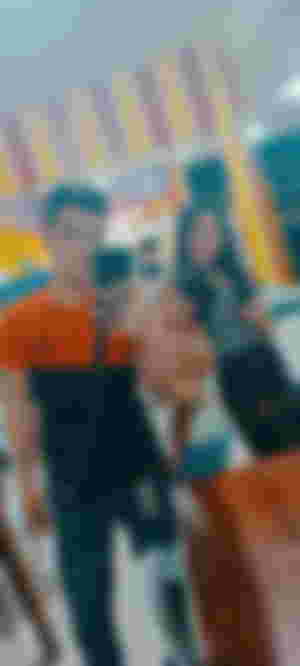 Since the bakery have a mirror so I took a selfie with the use of mirror like what others did when they saw a mirror that they are fan of taking a picture like this hihi.
So thats it, thats the bonding we did with my younger sisters yesterday and now today I'm already here in abuyog leyte I'm back to the reality of work again where I kept on using my mobile phone because we only have a few costumers every day.
Next time when I go home, I want to go to the place they called Sea of Clouds that's my next target, I hope that I can go that place soon, I really like to go there but the thing is they said that if you really want to go there you should be early to witnessed the clouds coz when the sun rise up the clouds will gradually disappear so thats the reason also why untill now I never reach that place but maybe soon I hope that I can go there.
Thanks for dropping by ;*