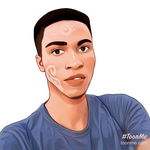 When I think of my childhood, I wish I can go back in time. Sometimes when I think of all the benefits you have as a child, I wish there is no physical growth in humanity. The joy we felt then, playing in the rain, having no grudges against anyone, living a stress-free life, and other childhood memories.
As children, we don't have things bothering our minds. All that was in our mind was to play and eat. No house chores, even if there were it will be easy work.
Education was fun for us as children, though we do run away whenever it's time for school. Break time for us was playtime, running up and down in the school premises. But now we've grown up, those things we used to do, we do them more.
But now, man's got a lot of things on his mind. As we grow physically Day by day, the same way we want to grow educationally, financially, and mentally.
Today, my roommate's little brother in junior school came to visit. His brother asked, "Have you done your assignment?" No! "He replied". He brought out the assignment, within three (3) minutes he was done with it. I was shocked and later came back to my senses that it's the norm. Not compared to now, even if you don't have assignments you must read your book for tests and exams.
According to the mobile dictionary, Growth is the increase in size, shape, or number. Growth in human beings is a natural thing God has made and man can change. I've never seen or heard of someone who doesn't grow in age. No matter how short or small a person is, one will definitely increase in size, different from how he/she was born.
As no one can stop Growth, the same way no man can stop death. Doctors do their best, but if a man is destined to die at a particular moment, no Doctor in this world can save such a person.
Everybody wants to live long, nobody wants to die. No charm or medicine can stop Growth also no charm/medicine can stop death. If it's possible to do a no-death charm, herbalists won't grow old not to talk of dying.
Like Naira Marley said in one of his songs "wèrè tó shogun aiku fun gan, to ba ku, bawo lóse fé gba refund?". which means. "A fool who pays for a no-death charm, even if he dies, how will he get his refund?"
Conclusion: God is in control of our life, our Growth and Death are in his hands. We need to live life the way it is, move closer to God and we shall live long.
Check out my sponsors, they are wonderful
Here are some of my recent articles